One year ago, Hurricane Sandy made landfall in New Jersey, causing massive damage and loss of life there and in surrounding states. It was the second-costliest hurricane in U.S. history, after Katrina in 2005.
On this 1 yr anniv, Sandy has helped communities & nation shift to greater resilience, per @rpuentes http://t.co/HjWIHFpKFa @RockefellerFdn

— Amy Liu (@amy_liuw) October 29, 2013
Even as rebuilding efforts are still occurring in some communities hit hardest by the "superstorm," Brookings scholars are looking at ways that cities, metropolitan areas and regions are changing their approach to natural disasters, and also at how disaster response is different in developing and less-developed countries.
Robert Puentes writes that "planning disaster recovery alone is not a viable option for governments cognizant of an increase in weather-related disasters in the coming years." He notes that:
… cities, metropolitan areas, and regions across the country are beginning to embrace resilience—that is, preparing cities to better anticipate disasters instead of focusing on recovery and relief efforts after disaster has struck—as the new planning norm. And for good reason, the Federal Emergency Management Agency shows that for every $1 that communities invest in resilience, $4 can be spared in damage that would otherwise be caused by a disaster.
A year ago, Puentes cited an OECD report that found that New York City lagged behind London, Tokyo and Shanghai in protective measures against coastal flooding. Puentes wrote then that the "inevitable pursuit of infrastructure investments, sea gates or storm barriers should be tightly coupled with 'softer' but just as important regulatory reforms like zoning codes and building and infrastructure standards."
Away from the ocean, towns like Moonachie and Little Ferry also flooded by the surge http://t.co/c7qbmEOEFP #Sandy

— Robert Puentes (@rpuentes) October 29, 2013
In August, on the day the federal Hurricane Sandy Rebuilding Task Force released its report, Bruce Katz and Puentes called the strategy "a critical step forward in how the federal government helps states, regions and localities recover in the aftermath of natural disasters." The Hurricane Sandy Rebuilding Strategy, they said:
… reinforces this bottom-up approach and shows how the federal government can be a reliable, supportive partner. The strategy shows an unprecedented commitment to coordination across federal agencies and collaboration between the federal, state and local governments and key local constituencies. Instead of establishing new programs with restrictive statutory provisions, the task force recommends (and has already begun to implement) new locally-driven solutions through innovative design competitions and added flexibility for communities to decide how funds can be spent within and across jurisdictions.
---
Amy Liu compared Sandy response to that after Hurricane Katrina, which she chronicled in an ongoing "New Orleans Index" report. Last year, in Sandy's aftermath, Liu offered her recommendations for the "basic tenets of a productive post-disaster response system," including:
1. The federal government matters
2. All post-disaster recovery is local
3. The high number of categorical federal programs for post-disaster recovery demands maximum flexibility to empower state and local decision-making
---
Earlier this year, Elizabeth Ferris, Daniel Petz and Chareen Stark reviewed natural disasters around the globe in 2012, putting Hurricane Sandy into a larger context: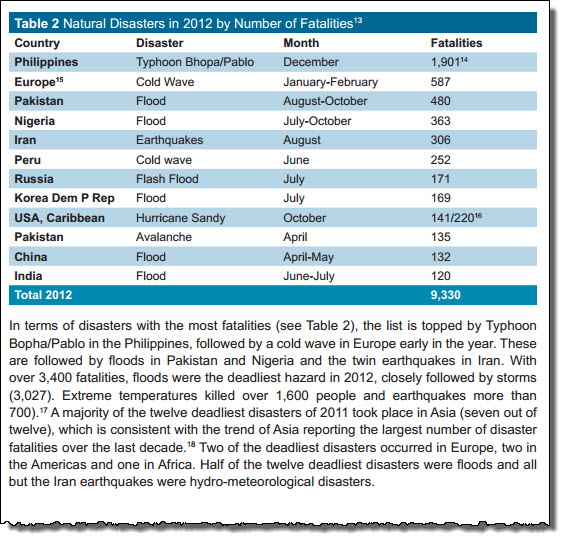 The authors found that:
The similarities between Sandy and Irene illustrate the difficulties in predicting – and preparing for – storms and hurricanes even in a developed country such as the United States. While Irene was seen as a once in a hundred year storm, just a year later, an even bigger storm struck the same general area. Given the fact that climate change is making weather more unpredictable and increasing the likelihood of extreme events, efforts are urgently needed to prevent natural hazards such as hurricanes and tropical storms from becoming major disasters. Hurricane Sandy also confirms the lesson drawn from our Annual Review of Natural Disasters in 2011 that economic losses tend to be greater in developed countries even though the death toll is generally higher in less developed countries.