The world's economic center of gravity is shifting eastward and southward to a new set of high-growth cities. Our recent report mapped the economic performance of the 100 largest metro economies in the Asia-Pacific region—the stretch of countries from East Asia to Oceania to the western parts of North and South America. Here are five facts about cities in the region powering world growth.
1. If the Asia-Pacific's 100 largest metro areas were a single country, they would be the largest national economy on earth. These metro areas house 722 million residents (ranging from 574,000 in Macau to 37 million in Greater Tokyo) and generate $21.9 trillion in economic output, fully 20 percent of global GDP.
2. Asia-Pacific metros amassed their collective scale through 15 years of rapid, world-beating growth. Since 2000, output in these 100 cities has expanded by 75 percent in real terms, compared to 45 percent across the entire global economy.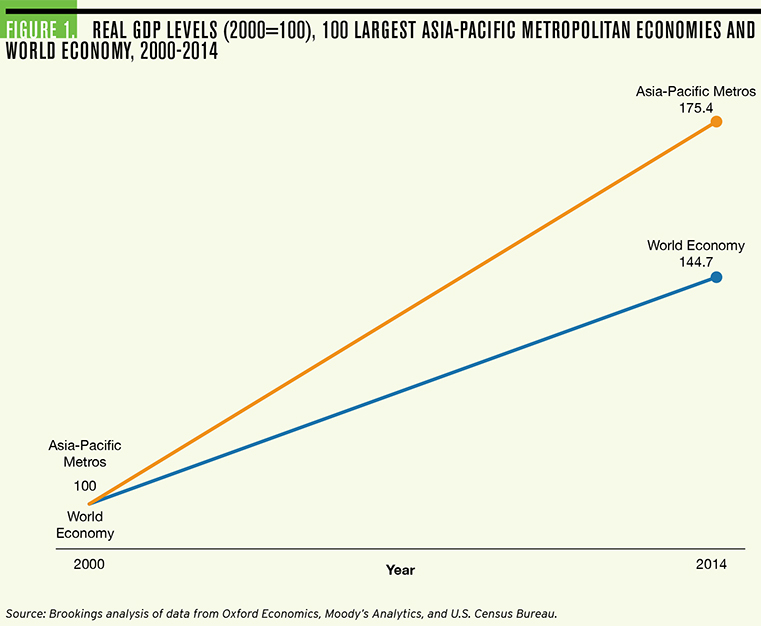 3. Incredibly fast-growing Chinese metro areas have powered the collective growth of Asia-Pacific cities. Chinese metro areas averaged 11.2 percent annual GDP per capita growth since 2000, compared to just 1.3 percent per year in the rest of the world's major cities.
4. Even as China's economy cooled, Asia-Pacific cities as a whole accounted for a disproportionate share of global growth last year. In 2014, these 100 metro areas accounted for 20 percent of the world's economy but generated 29 percent of global growth. Beyond China, tech-driven San Jose and emerging market metro areas such as Ho Chi Minh City and Medellin were among the 20 fastest-growing Asia-Pacific cities, based on the Asia-Pacific Metro Monitor's economic performance index.
5. However, cities in the more developed parts of Asia, especially Japan and Oceania, struggled with slower growth in 2014. The above table reveals that Japan housed 11 of the 20 weakest-performing Asia-Pacific cities in 2014. Included in this group are the country's largest metro economies—Tokyo, Osaka, and Nagoya—which together represent 55 percent of Japan's economy.