Content from the Brookings-Tsinghua Public Policy Center is now archived. Since October 1, 2020, Brookings has maintained a limited partnership with Tsinghua University School of Public Policy and Management that is intended to facilitate jointly organized dialogues, meetings, and/or events.
Brexit has little direct effect on the Chinese economy though it does increase the risk of financial volatility. In the long run it is hard to see it as anything but a plus for China as the West continues to decline and China continues to rise.
In the immediate aftermath of the Brexit vote, stock markets all over the world tanked. The interesting exception was China: The Shanghai market fell 1 percent on Friday and then more than recovered it on Monday. In the short run, Brexit is a modest negative as Europe's gross domestic product (GDP) and trade are likely to grow less rapidly, and the EU is China's largest trading partner. But the Chinese economy is simply not that export-oriented anymore. In the aftermath of the global financial crisis, the contribution of net exports to China's GDP growth has averaged around zero. China initially made up for lost external demand with a massive stimulus program aimed at investment. This has now led to excessive capacity in real estate, manufacturing, and infrastructure. As a result, investment growth is slowing (see figure below). But China's GDP growth has held up well because consumption is now the main source of demand. It consistently delivers more than 4 percentage points of GDP growth and its contribution has been on an upward trend.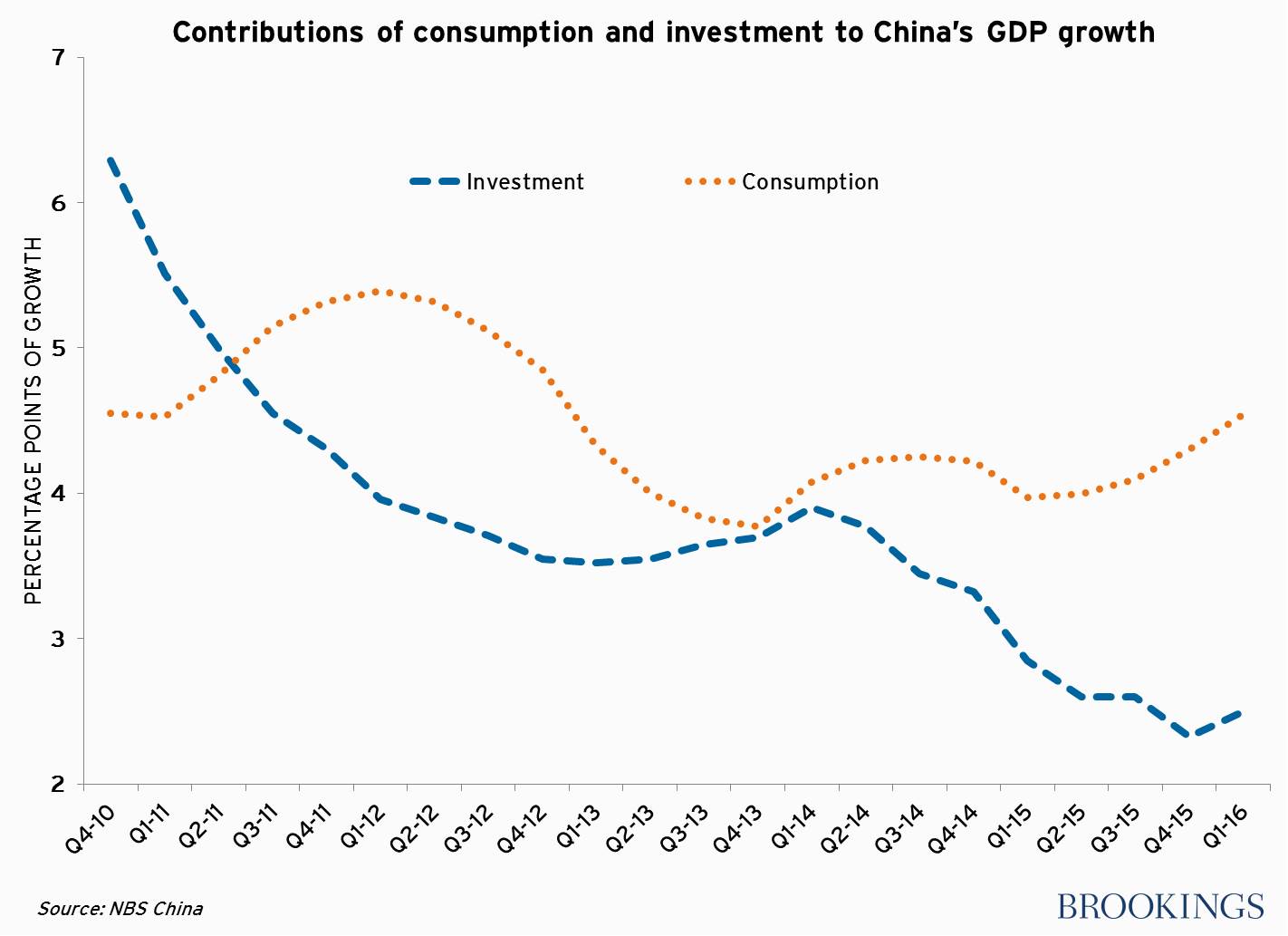 China has developed a virtuous circle in which wages are rising at a healthy rate (more than 10 percent over the past year), consumption is growing, consumption is mostly services so the service sectors expand, and they are more labor-intensive than industry so sufficient jobs are created to keep the labor market tight. There are plenty of things that could go wrong, but maintaining consumption is the big challenge for China, not the external sector.
Another feature of China's new growth pattern is that there is a steady outflow of capital as investment opportunities at home diminish. The U.K. had been one of the favored destinations for China's outward investment, seen as a welcoming location that could be used as a jumping off point for the rest of Europe. Chinese firms will now need to rethink that strategy but this should not be too difficult an adjustment. The United States has been the destination for the largest share of China's overseas investment and it is likely that that trend will strengthen in the wake of Brexit.
Brexit does complicate China's currency policy. The dollar and the yen have strengthened while the pound and euro decline. In past global crises, China has been a source of stability but the yuan fixing on Monday suggests that the central bank does not want to follow the dollar up if it is going to keep rising. Ideally they would like relative stability against a basket. There continues to be a risk that this policy will excite accelerating capital outflows so in that sense financial risks have increased somewhat. But probably the central bank will be able to manage the capital outflows so that the trade-weighted exchange rate is stable.
A U.K. no longer in the European Union will presumably be anxious to strengthen its ties with China so it may well be willing to make compromises on market-economy status and investment deals that a unified Europe would not have made.
Finally, from a larger geostrategic perspective, it would seem that China is the big winner from Brexit. Europe is likely to be a less influential player on the world stage and will be absorbed with internal issues of negotiating the British exit, controlling immigration, and keeping the periphery inside the eurozone. The United States is also likely to be distracted by these European challenges. This gives China more scope to pursue its reclamation activities in the South China Sea and to play divide and conquer with European states on various issues. For example, China would like to be recognized as a market economy, which is both symbolic and a practical matter for adjudicating anti-dumping cases. It is also negotiating investment treaties with both the United States and the EU, though so far China's offers have not been very attractive in the sense that they exempt many important sectors from open investment. A U.K. no longer in the European Union will presumably be anxious to strengthen its ties with China so it may well be willing to make compromises on market-economy status and investment deals that a unified Europe would not have made. Brexit itself may not be that important but it may prove to be a good signal of the decline of Europe and the rise of China.