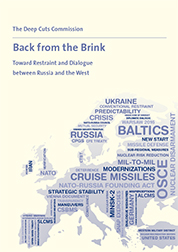 Ongoing tensions between Russia and the West mean that, despite limited collaboration on issues such as the Iran nuclear deal, comprehensive cooperation remains unlikely in the near term. In the meantime, however, the two sides must work to reduce the potential for military confrontations or miscalculations, which could escalate into broader conflict.
The Deep Cuts Commission, a trilateral German-Russian-U.S. Track II effort, published its latest report on June 20. Entitled "Back from the Brink: Toward Restraint and Dialogue in Relations between Russia and the West," the report examines measures that the United States, NATO, and Russia might take to reduce tension and the risk of military miscalculation. It also offers ideas for resolving differences between the West and Russia on issues such as compliance with the Intermediate-Range Nuclear Forces (INF) Treaty and restoring momentum to the arms control process.
It proposes several concrete means of encouraging restraint and dialogue, including: discussions on mutual restraint measures; reviving dialogue on joint nuclear risk reduction; taking advantage of existing confidence and security-building measures, such as the Open Skies Treaty; supplementing diplomatic dialogues on the INF treaty by convening a special commission to address technical questions; addressing nuclear-armed cruise missile proliferation by bolstering Missile Technology Control Regime restrictions; and exercising restraint in nuclear modernization.
The Deep Cuts Commission is a Track II effort composed of German, Russian, and American experts that seeks to develop ideas for overcoming the current challenges and obstacles to deep reductions in nuclear arms. Brookings Senior Fellow Steven Pifer is a member of the commission.