According to a new paper by Robert Litan and Ian Hathaway, the American economy is less dynamic and entrepreneurial than at any point in at least the last three decades—and the decline has occurred in all 50 states and nearly all 366 metro areas. In "Declining Business Dynamism in the United States: A Look at the States and Metros," Litan, a nonresident senior fellow at Brookings, and Hathaway of Ennsyte Economics write that:
recent research shows that dynamism is slowing down. Business churning and new firm formations have been on a persistent decline during the last few decades, and the pace of net job creation has been subdued. This decline has been documented across a broad range of sectors in the U.S. economy, even in high-tech.
"We show," write that authors, "that dynamism has declined in all fifty states and in all but a handful of the more than three hundred and sixty U.S. metropolitan areas during the last three decades."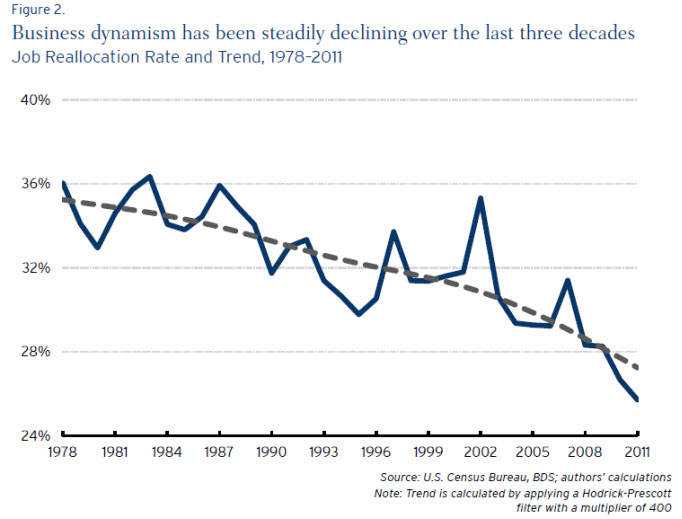 ---
In the paper, the authors call the job reallocation rate the "broadest measure of overall business dynamism." Based on the percentage change in metro area job reallocation rates from the 1978-80 period to the 2009-11 period, here are the top and bottom 10 metro areas.
Top 10 Metro Areas (highest positive percentage change in job reallocation rate)
| | |
| --- | --- |
| Danville, VA | 23.5% |
| Ann Arbor, MI | 13.6% |
| Rochester, MN | 9.5% |
| Niles-Benton Harbor, MI | 6.8% |
| Palm Coast, FL | 6.5% |
| Flint, MI | 6.2% |
| Kokomo, IN | 5.5% |
| Hanford-Corcoran, CA | 5.0% |
| Sheboygan, WI | 3.3% |
| Dubuque, IA | 1.3% |
Only two other metro areas, Anderson, IN and Rockford, IL, have positive job reallocation rate percentage changes over this time period.
Bottom 10 Metro Areas (highest negative percentage change in job reallocation rate)
| | |
| --- | --- |
| Bend, OR | -67.4% |
| Redding, CA | -60.3% |
| Madera-Chowchilla, CA | -55.5% |
| Fairbanks, AK | -54.6% |
| Ithaca, NY | -51.5% |
| Vallejo-Fairfield, CA | -50.9% |
| Charleston, WV | -50.3% |
| Santa Barbara-Santa Maria-Goleta, CA | -49.3% |
| Sioux City, IA-NE-SD | -49.0% |
| Atlantic City-Hammonton, NJ | -48.9% |
---
Chris Ingraham at the Washington Post has a map showing business dynamism based on firm entry across the United States:
Mapping the decline in American innovation, state-by-state http://t.co/WpdU1ptUHC pic.twitter.com/DLh91Z0JOY
— Christopher Ingraham (@_cingraham) May 6, 2014
---
"Overall, the message here is clear," Litan and Hathaway write in the paper.
Business dynamism and entrepreneurship are experiencing a troubling secular decline in the United States. It is clear that these trends fit into a larger narrative of business consolidation occurring in the U.S. economy—whatever the reason, older and larger businesses are doing better relative to younger and smaller ones. Firms and individuals appear to be more risk averse too—businesses are hanging on to cash, fewer people are launching firms, and workers are less likely to switch jobs or move.
Download the paper here to read their analysis, conclusions, and recommendations. See also their data and charts on firm entry and exit rates in states and metro areas.