Op-Ed
Squeeze Austria to Cleanse Its Government
The international condemnation of Austria's decision to include the far-rightist Freedom Party in its new government was remarkable for both the speed with which it was enunciated and the precedent it set.
Austria's 14 fellow European Union members acted swiftly in downgrading their diplomatic relations with a government that now includes a party fundamentally antithetical to their values and principles. The United States followed suit by recalling its ambassador to Washington for consultations.
The challenge now will be to maintain Austria's diplomatic isolation for the indefinite future, even as signs emerge of a backlash in Austria, propelling the Freedom Party and its leader Joerg Haider to new popular highs.
The swift international reaction can be explained on many levels. There is, first of all, an understandable fear of what these developments portend for Austria. Haider is no ordinary conservative, but a nationalist who deliberately has stoked anti-immigrant and anti-EU fears in his rise to power. In the process, he has hailed the Nazis' employment policies, called those who fought in the Waffen SS decent men who served with honor and talked about Nazi "punishment camps."
He has run his party with an iron fist since becoming its leader in 1986?brooking no dissent from within his own ranks, while dismissing those who resisted his authority.
There is little doubt that Haider's recent attempts to distance himself from past statements amount to little more than a tactical retreat by an opportunist who remains firmly focused on achieving his overriding goal of becoming chancellor.
Haider's party's rise to power is all the more disturbing for occurring in a country that has shown very little remorse for its own past action. Preferring to think of themselves as Hitler's first victim, too many Austrians have forgotten that one million of their forebears fought in Hitler's armies.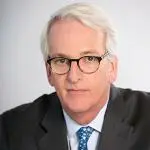 Former Brookings Expert
President -
Chicago Council on Global Affairs
Former U.S. Ambassador to NATO
Hitler was born in Austria, and so was Adolf Eichmann, who organized the "final solution" from his base in Vienna. Austrians served in disproportionate numbers as Hitler's executioners in Nazi death camps. And less than 15 years ago, Austrians went to the polls and elected as their president Kurt Waldheim, a man who served in a Nazi unit guilty of unspeakable atrocities in Yugoslavia.
Against this background, Haider's actions and statements are cause for great concern. But if Austria's past provides one reason for worry, domestic politics in Europe provides another.
For Haider's triumph is rooted in a popular base and sentiment that exists in other European countries. Fears of immigration and the consequences of opening to the cheap labor markets of the east are widespread within Europe, providing fertile ground for far-rightist parties to gain support throughout the continent.
The Freedom Party's accession to power does more to legitimize these sentiments than anything other development since the end of World War II. The concern is real and justified that the far right's appeal only will gain further support in other countries.
Most worrisome is the possibility that in those countries like Germany, where the conservative opposition is in disarray, the far right might succeed in becoming a potent political force by displacing the center-right altogether.
Europe and the United States were right to downgrade their diplomatic relations with an Austrian coalition government that included the Freedom Party as an equal partner. Doing so sent an unmistakable signal that in today's Europe there can be no place in government for politicians and parties that do not share a fundamental commitment to human rights and democracy and are intolerant of others.
Those countries that want to join the European Union for economic reasons are thereby put on notice that it is their enduring commitment to these values that matters most.
Having sent this powerful message, it is critically important for EU members and the U.S. government not to hint at any acceptance of Austria's government in the months ahead. There can and must be no turning back so long as Haider's party remains in government. The goal must be to increase the pressure on Vienna by inflicting economic and other costs of staying the course.
That is why it is particularly regrettable that the Clinton administration has chosen to act in ways that do not demonstrate the same seriousness and steadfastness as our European friends. The decision to recall the U.S. ambassador to Austria merely for consultations had the unfortunate consequence that, following these consultations, the ambassador would return to Vienna, as she was scheduled to do over the weekend. This sends a signal that all is well again with U.S.-Austrian relations, or so the government in Vienna is arguing.
To avoid any such suggestion, Washington must do what Austria's 14 fellow EU members have done?to make sure that there can be no business as usual with Austria as long as the current government is in power.
Diplomatic contacts should continue only at a technical level. And the economic pain must be increased steadily by discouraging tourism, canceling conventions and meetings already scheduled, and considering the move of international agencies and organizations to alternative locations.