Op-Ed
Congress' Chance to Change the FBI
Congress has another, little noticed opportunity to help the FBI concentrate its resources on the most critical national security dangers. In an effort to answer the barrage of questions and criticism about communication failures and why the FBI was unable to prevent the terrorist attacks, FBI Director Robert Mueller recently announced a second round of substantial organizational changes.
The plan Mueller is proposing to Congress includes establishing an Office of Intelligence, headed by a CIA agent, to consolidate FBI oversight of counter-terrorism and counterintelligence activities. However, one piece missing from his proposed reorganization could be an important element in allocating resources: improving the FBI's role in the presidential appointments process. The process for conducting FBI full-field investigations on presidential appointees is an area where the agency can take immediate steps, and receive tangible, almost instantaneous, results by freeing resources currently committed to background investigations that could be used to fight terrorism.
Mueller could take this opportunity to create a new Office of Security, as recommended recently by former FBI and CIA Director William H. Webster. In a report supporting the need for restructuring the FBI, Webster led a commission to study security programs within the FBI, and submitted his report to Attorney General John Ashcroft on March 31.
Webster's report recognizes the important role security professionals play in protecting the public from the few federal employees who would misuse their public office for private gain, whether they serve in the FBI or in other federal government posts. It also acknowledges that the FBI does not foster the career development of its security professionals to the extent it should – these responsibilities are often "foisted onto agents as collateral duties."
The report recommends that "career tracks should be developed for security officers to professionalize these positions and make them attractive." These positions would be housed within the new Office of Security to give the "stature, resources and visibility" to security functions as a core FBI mission.
Part of the problem is that this administration has more positions to fill than any previous administration, which means more investigations. As more individuals undergo the lengthy FBI background investigations part of the appointments process, the delays increase and more resources are consumed. While a background investigation is normally scheduled for completion in 35 calendar days, it can take much longer.
The president's director of White House personnel recently described the need to "tailor" these background checks more appropriately to the appointee's position and the level of national security risk associated with his or her position. An executive order directing that this "tailoring" be done would help the FBI reorganization. As the Webster report makes clear, "Security clearance decisions are governed by executive orders and director of central intelligence directives that are extensive and detailed."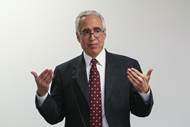 Congress should assist the administration in defining which positions among the various levels of presidential appointees require the highest level of review and which do not. This would leave the FBI free to perform its most critical work in the war against terrorism.
Not only would this be a wonderful reform on its own merits, it would complement Sens. Fred Thompson (R-Tenn.) and Joseph Lieberman's (D-Conn.) Presidential Appointments Improvement Act, which is currently moving through the Senate. Together, consideration of the Thompson-Lieberman bill and rationalization of FBI background checks would help convince highly qualified people to serve in this and future administrations.
The FBI can take the opportunity to address this problem as part of its reorganization efforts, and take the resources currently being used on unnecessary and unnecessarily lengthy background investigations of presidential appointees and refocus them on the war on terrorism.
A more rational approach to background investigations would not only help speed the process, but assure that resources are committed to areas of real risk, not the same old routine—a win-win situation not only for both the FBI and presidential appointees, but ultimately for the American public as trust and confidence is restored in our government leaders and their performance.