Host: Ivo Daalder is a Senior Fellow at the Brookings Institution in Washington D.C. Ivo Daalder, in your view, is Vice President Dick Cheney correct on this point that this clamor about the nuclear policy review is really much ado about nothing?
Ivo Daalder: No, I don't think it's much ado about nothing. There clearly is a shift underway in the way in which the United States thinks about nuclear weapons. The use for weapons that we deployed over the past 50 years, in order to deter a war, particularly a nuclear war with the Soviet Union and possibly with a country like China. We now seem to be thinking about nuclear weapons as weapons of warfare to deal with new threats—not just Russia and China—but also five other countries.
The complete interview is no longer available at theworld.org.
Author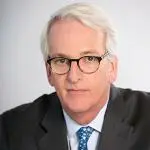 Former Brookings Expert
President -
Chicago Council on Global Affairs
Former U.S. Ambassador to NATO
The question with this administration is, what will Trump see as an acceptable return for this waiver [granted to India for its trade with Russia and Iran]? Will he demand a transaction in return, some give on the trade side or a big defence deal for the US as well? Russia and Iran are sticking points, but the fact that the Trump administration is dealing with these privately is a sign of how much the relationship has changed. [Mr Trump] usually doesn't give out freebies.