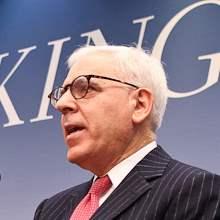 Washington, DC — The Brookings Institution, the nation's oldest and largest public policy think tank, announced that David M. Rubenstein, co-founder and co-CEO of the Carlyle Group private equity firm, has been elected co-chair of its Board of Trustees. Rubenstein will serve as co-chair alongside John L. Thornton.
Rubenstein was elected to the Brookings Board in 2009 and has served as vice chair since 2011. One of the nation's leading philanthropists, Rubenstein brings extensive business and management experience to Brookings, as well as experience in the public sector, having worked at the White House early in his career. Among his many leadership positions at non-profit organizations, he is chairman of the Kennedy Center for the Performing Arts in Washington, DC and Duke University in Durham, NC.
The introduction of co-chairs of the Brookings Board of Trustees reflects the growth of the Institution, which, under the leadership of Brookings President Strobe Talbott, has seen its annual budget more than double in the last decade, and has added research partnerships with universities and civic organizations across the United States, and research centers in Beijing, New Delhi, and Doha. Brookings is in the midst of the Second Century Campaign, a comprehensive effort to raise $600 million ahead of the Institution's centenary in 2016.
"David is a well-known leader, both in the business community and in the many educational, arts, cultural, and medical organizations with which he has been affiliated," said Thornton. "He brings his intellect and a strong commitment to Brookings and our mission to this new role. We're fortunate to have him on board at such a critical time in the Institution's history."
"I'm honored that my fellow Trustees elected me as co-chair of the Board," Rubenstein said. Brookings has such a rich history and has been an important part of so many of this country's most pivotal moments. I look forward to working with John and Strobe and the rest of the Board to not just maintain, but to build on the excellence that has been Brookings's calling card for almost a century."
Strobe Talbott added "We are fortunate to have David as a leader of our Board. He brings experience and understanding to the work our scholars as well as respect for their independence.  His global vision and his familiarity with Washington will buttress our own aspirations and impact, and his business acumen is valuable in ensuring the sound management of the Institution."
The Brookings Institution is a nonprofit public policy organization, founded in 1916 and based in Washington, DC, with a mission to conduct high-quality, independent research and, based on that research, to provide innovative, practical recommendations that advance the three broad goals of strengthening American democracy; fostering the economic and social welfare, security and opportunity of all Americans; and securing a more open, safe, prosperous and cooperative international system. Brookings work is conducted in five research programs—Economic Studies, Foreign Policy, Global Economy and Development, Governance Studies, and the Metropolitan Policy Program, which house fourteen centers and numerous initiatives and projects.
About Brookings
The Brookings Institution is a nonprofit organization based in Washington, D.C. Our mission is to conduct in-depth, nonpartisan research to improve policy and governance at local, national, and global levels.