News Release
Martin Indyk, Vice President and Director of Foreign Policy, Named Executive Vice President of Brookings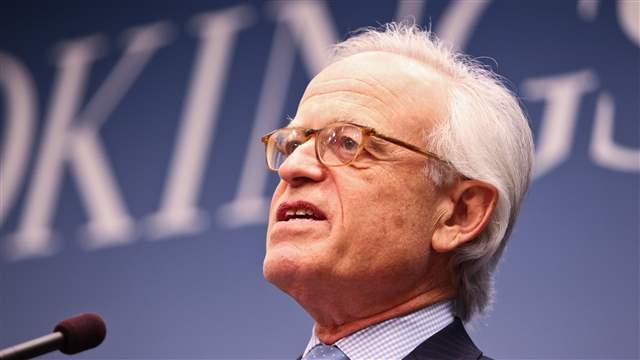 Washington, D.C. – Martin Indyk, vice president and director of the Foreign Policy Program at the Brookings Institution, has been appointed to the new post of executive vice president of Brookings, the Institution's President Strobe Talbott announced today.
Indyk has been a vice president of the Institution and director of the Foreign Policy Program since 2009.  Prior to that, he served at Brookings since 2001 as a senior fellow and the founding director of the Center for Middle East Policy. Under Indyk's leadership, Foreign Policy at Brookings has grown dramatically in scope and budget, bringing the program up to 48 full-time scholars and adding foreign centers in Beijing, Delhi and Doha, as well as the Center for East Asia Policy Studies and the Center for 21st Century Security and Intelligence in Washington. 
Indyk took a year-long leave of absence from Brookings in July 2013 to serve as Secretary Kerry's special envoy for Israeli-Palestinian Negotiations. He has written extensively on Middle East politics, particularly Arab-Israeli relations. He served twice as U.S. ambassador to Israel (1995-97, 2000-01); as special assistant to President Clinton for National Security Affairs; and as assistant secretary of state for Near East Affairs. Prior to entering the Clinton administration, he was the founding executive director of the Washington Institute for Near East Policy. His book, Innocent Abroad: An Intimate Account of American Peace Diplomacy in the Middle East (Simon & Schuster, 2009) is a comprehensive insider's account of the peace negotiations under President Clinton.
Indyk holds a bachelor's degree in economics from Sydney University and a doctorate in international relations from the Australian National University.
"Martin built the Middle East studies program at Brookings from the ground up, demonstrating not only talent as a scholar and a foreign policy expert, but superb leadership and fundraising ability. He then applied those skills to the Foreign Policy program as a whole, growing it into one of the largest and most influential foreign policy and security studies programs in the world," said Talbott. "Martin is a gifted manager, a respected and effective diplomat, and a successful institution-builder. His many strengths will serve his fellow scholars and the Institution as my principal deputy, safeguarding our standards for quality and independence and enhancing our impact."
Senior Fellow and Deputy Director of Foreign Policy Bruce Jones will become interim vice president and director of the Program.
About Brookings
The Brookings Institution is a nonprofit organization devoted to independent research and policy solutions. Its mission is to conduct high-quality, independent research and, based on that research, to provide innovative, practical recommendations for policymakers and the public.