Content from the Brookings Institution India Center is now archived. After seven years of an impactful partnership, as of September 11, 2020, Brookings India is now the Centre for Social and Economic Progress, an independent public policy institution based in India.
Brookings India in collaboration with International Houses Worldwide and UChicago Center, New Delhi, hosted a panel discussion on "What 2016 Holds for U.S.-India Relations" at the UChicago Center on December 4. The panel discussion featured Virat Bhatia, President External Affairs (South Asia), AT&T; Jay Panda, current member of the Lok Sabha; George Sibley, Counselor for Economic Affairs and Environment, Science and Technology, U.S. Embassy; and Meera Shankar, former Indian Ambassador to the U.S. The discussion was moderated by Vikram Singh Mehta, Chairman, Brookings India, and attended by young scholars and members from the diplomatic community, think-tanks, academia and the media.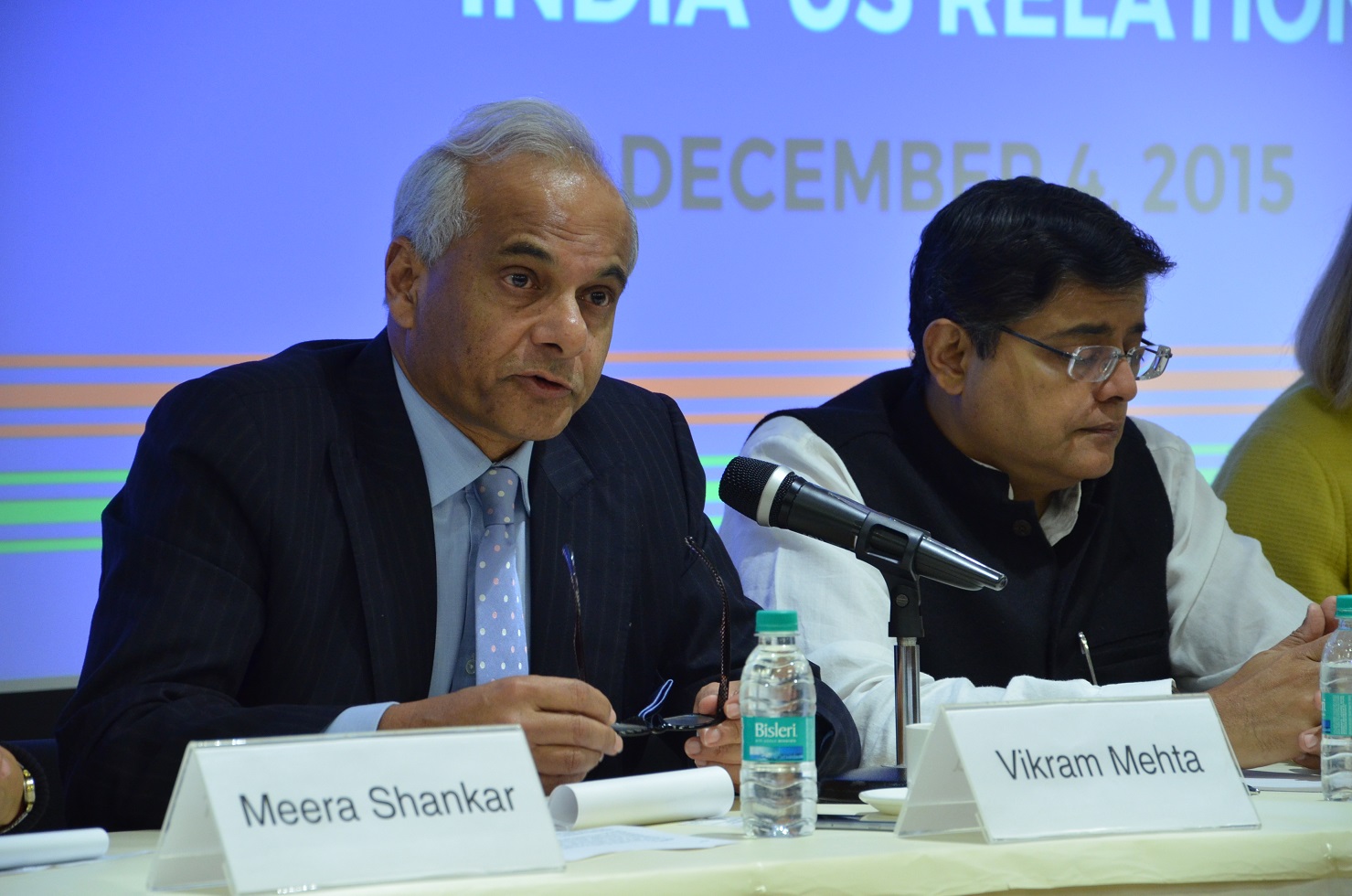 There has been a great momentum in relations between India and the U.S. in the last few years with frequent meetings between Prime Minister Narendra Modi and President Barack Obama. The two countries have stepped up their defence cooperation with significant strides in trade and manufacturing of weapons. India also conducts maximum number of military exercises with the U.S. which complements the defence partnership. The implementation of the Joint Strategic Partnership on Indo-Pacific and Indian Ocean dealing with issues such as maritime security, counter-terrorism and connectivity further signify the commonality of strategic interests between the two countries. The two countries also cooperate bilaterally on energy issues such as energy storage, smart grids etc. There is also great potential for cooperation in renewable energy, civil nuclear technology and energy efficiency. Last year also witnessed a thirty percent increase in the number of India students studying in the U.S., further strengthening people-to-people ties.
2016 is likely to be a challenging year for the India-U.S. relationship because of the Presidential elections and President Obama's last year in office. There will be a greater inward focus within the U.S. and domestic issues will hold primacy over bilateral and multilateral issues. In such a scenario, the structural pillars of the bilateral relationship will have to step up their role in order to ensure continued progress. It is important to note that the India-U.S. relationship enjoys rare bipartisan support within the U.S., acting as a catalyst for sustained cooperation and collaboration in all sectors.
The discussion examined the recent developments in the bilateral relationship between India and the United States following Prime Minister Modi's September 2015 visit to the U.S. With the United States of America heading towards Presidential elections in November 2016, the panellists debated on what the coming years hold for the India-US Partnership.
Panellists:
Virat Bhatia, President External Affairs (South Asia), AT&T
Vikram Mehta, Executive Chairman, Brookings India
Jay Panda, currently serving as a Member of the Lok Sabha
Michael Pelletier, Deputy Chief of Mission, US Embassy in India
Meera Shanker, Former Indian Ambassador to the USA