Japan is the great economic success story of the postwar period, growing at unprecedented rates to become one of the world's most advanced industrial nations. But since the early 1970s, Asia's economic giant has had to contend with many of the problems encountered by Western economies–slower growth, increased unemployment, rapid changes in the financial and industrial sectors–problems that have permanently transformed its economy and pose crucial challenges for its leaders.
In this book, Edward J. Lincoln discusses Japan's burst of growth and the complex interplay of demographic, cultural, economic, and political forces that shaped the subsequent emergence of large domestic imbalances. The motivation and impact of Tokyo's successive attempts to deal with slower growth receive special attention: ballooning government deficits that supported domestic growth in the late 1970s, a determined switch to austerity measures in the 1980s as a surging current-account surplus conveniently buoyed the economy, and as yet uncertain responses to the recent appreciation of the yen that has capped the external surpluses.
Lincoln focuses on the changes experienced by Japan's financial institutions and their implications for international economic transactions. Slower growth and altered monetary flows have brought increasing domestic and international pressures for deregulating financial institutions, and the government has responded cautiously. The study analyzes the resulting tensions and crosscurrents within Japan and the strains that have developed in relations with the United States. It concludes with a lucid presentation of Japan's options for stimulating domestic demand through reducing private-sector savings, increasing investment, and raising government spending, as well as appropriate U.S. policies to promote these outcomes. Whatever policy decisions Japan makes in the next few years will be shaped by the economic forces and institutional framework Lincoln outlines.
Related Books
Arthritic Japan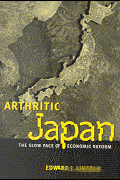 Japan's New Global Role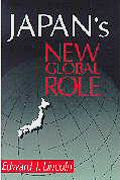 Troubled Times
Edward J. Lincoln is a senior fellow in Asia and Economic Studies at the Council on Foreign Relations. His previous Brookings books include Arthritic Japan (2001), Troubled Times: U.S.-Japan Trade Relations in the 1990s (1999), Japan's New Global Role (1995), and Japan's Unequal Trade (1990). In the mid-1990s, Lincoln served as special economic advisor to Walter Mondale, former U.S. ambassador to Japan.