Ukrainian President Victor Yanukovych hopes to sign an association agreement with the European Union at the EU's Eastern Partnership summit in Vilnius on November 28-29. The association agreement is a big deal: it lays out a roadmap for Ukraine to draw closer to the European Union. It also includes a deep and comprehensive free trade agreement that will allow Ukrainian exporters much greater access to the European market, its $16 trillion annual economy and its 500+ million consumers.
The association agreement's signature, however, is not guaranteed. Far from it. EU officials say Kyiv still has several EU requirements to fulfill, including putting an end to selective justice. Most importantly, Mr. Yanukovych must allow his arch political adversary, Yulia Tymoshenko, to leave prison, where she has spent the past two years on what virtually all Western observers regard to be trumped-up charges.
Mr. Yanukovych is clearly hesitant to let Ms. Tymoshenko go. If he does not, the European Union most likely will not sign the association agreement, putting a brake on Ukraine's effort to deepen its links to Europe. That will leave Kyiv in a rather exposed and vulnerable position if Moscow decides to up the pressure it has applied to persuade Ukraine to join the Russia-Belarus-Kazakhstan Customs Union.
A failure to sign the association agreement could also prove damaging to Mr. Yanukovych's political prospects at home, where he faces a presidential election in 2015. That's because opinion polls in Ukraine consistently show broad and growing popular support for integrating with the European Union.
A poll conducted October 2-15 by GfK Ukraine showed three times as many Ukrainians favoring the association agreement with the European Union as supporting the Russian-led Customs Union:
Another poll conducted in November by IFAK Ukraine for DW-Trend showed 58 percent of Ukrainians supporting the country's entry into the European Union.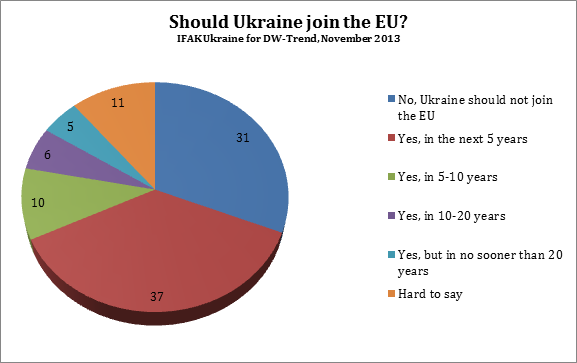 The opinion poll numbers break down in thought-provoking ways. In the DW Trend poll, 50 percent of Ukrainians in the east and south—regions where the populations tend to be more sympathetic to Russia—support joining the European Union.
A third poll, conducted by The Kyiv International Institute of Sociology in mid-September, showed Ukrainians favoring the European Union over the Customs Union by 41 percent to 35 percent. But the poll provided a very interesting demographic breakdown: the younger the voter, the greater gap between support for the European Union and support for the customs union: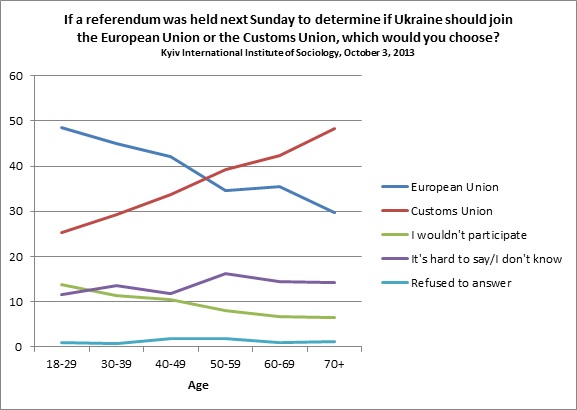 Most recent opinion polls suggest that, in the presidential election, Mr. Yanukovych will struggle against the main opposition candidates, Vitaliy Klychko and Arseniy Yatseniuk. If he is going to win in a free and fair ballot at a time when the Ukrainian economy appears to be headed for stagnation, the president will need some themes that find resonance with the electorate.
Authors
Senior Research Assistant and Assistant Blog Editor
A number of Mr. Yanukovych's advisors reportedly have urged him to do what is necessary to sign the association agreement. They apparently believe that he could then run as the man who "brought Ukraine into Europe." By the look of the above polls, that could prove an attractive campaign theme. But Mr. Yanukovych will lose the opportunity to run on that theme if he misses the opportunity to sign the association agreement.
More
That engagement [with Hungary] appears to have led nowhere. … It looks like enabling policy. They [the Hungarians] already are deeply engaged with both Russia and China, and it's not apparent to me that what this administration calls its engagement policy has changed that.