Oregon's primary elections today provide voters the chance to select their preferred candidates not just for president, but for leaders at every level of government, including a new mayor in Portland. In an election season defined by voter anger and disillusionment with the establishment, there are undoubtedly many Oregonians heading to the polls today who seek a fresh start and new set of strategies for economic prosperity. But our Metro Monitor suggests that Portland's economy is not broken. Since the recession, greater Portland has enjoyed an economic boom that outpaces most U.S. metros. Many workers are better off than they were in 2009.
Between 2009 and 2014, greater Portland added jobs, output, and aggregate wages, ranking among the best U.S. metros on these traditional economic measures. The metro area's productivity and standard of living rose 6.1 percent and 9.4 percent, respectively, suggesting that the region's assets in innovation and skilled workers may be contributing to growth. And on inclusion, a greater share of working-age residents in Portland are employed (up by 2.2 percent), while the share of workers earning less than half of the median wage fell 2.8 percent. Portland's economic prosperity is reaching more people.
Still, income disparities and housing affordability persist. Between 2009 and 2014, the number of working-age persons of color grew by 67,000 in metro Portland, while the number of working-age whites fell by nearly 20,000. Yet the typical worker of color in the region earns just 69 cents on the dollar compared with white workers, is less likely to be employed, and is more likely to work in a low-wage job. The income gap, coupled with changing demographics, explains why greater Portland's median wage has declined by 4 percent. Meanwhile, housing prices are rising precipitously, outpacing wages and forcing residents to choose between paying ever-higher rents and moving to less desirable neighborhoods.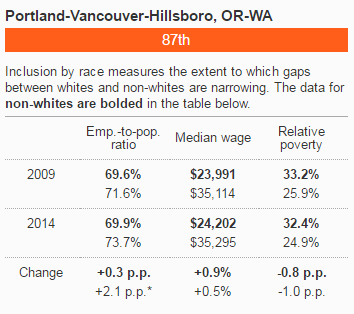 These trends don't signal a sweeping mandate for change. However, winners of today's primaries would do well to build on Portland's economic strengths while acknowledging the need to improving housing choice and opportunities for a rapidly diversifying community.
For more on Portland's economic outlook, read my op-ed in the Portland Business Journal.