It's old, it leaks, and some say it resembles developing world infrastructure. But for all its negatives, there's a big thing that New York's LaGuardia Airport can claim: It matters.
LaGuardia consistently ranks as one of the country's 25 busiest airports. For the most recent 12-month period ending in November 2014, it handled 26.7 million passengers traveling on over 349,000 flights. It's a vital conduit between New York's enormous service industries and peers in markets like Chicago, Atlanta, Miami, and Dallas. And its regional role keeps growing, with flights up over 25 percent since 2000.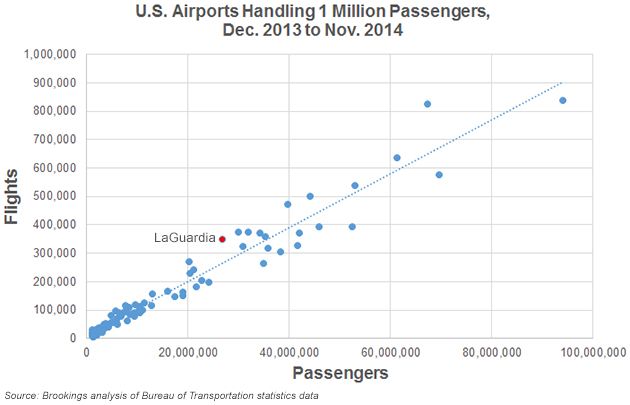 That's why, for all the complaints about the airport's interior aesthetics, noise, and the limitations on its footprint, the mere thought of closing down LaGuardia is economic heresy. It would eliminate the airport with the shortest drive-time to downtown Manhattan, a major economic advantage for a city built on moving business people as quickly as possible. The New York City airports already cause an outsized share of all national delays, so relocating 26 million passengers to JFK and Newark would only intensify congestion in the country's busiest airspace. And shifting them to airports further afield can backfire. Montreal's Mirabel Airport, which is more than 20 miles from downtown, could not attract enough passengers and is now just a giant cargo airport.
Instead, fixing LaGuardia and other transportation infrastructure in the region is the real solution. Operationally, current federal efforts to create efficiencies in the New York-Philadelphia airspace and long-term implementation of NextGen satellite navigation both promise to make New York's three core airports run smoother. The airport's design will also get a facelift, with a proposed $4 billion public-private partnership between the Port Authority and private investors promising to dramatically rebuild LaGuardia's terminals and exterior space. Finally, the prospect of dramatic investment along the Northeast Corridor could increase Amtrak's majority share of the market of travelers heading south toward Washington and north toward Boston, thereby freeing up more capacity at New York airports for long-distance travel.
It won't be long until LaGuardia sheds its aesthetic criticisms. And when it does, maybe we'll start appreciating one of the country's busiest, most essential airports.