The Avenue
Relieving Congestion to Boost Metro Trade
Clogged roads and highways inconvenience millions of commuters, but these same traffic jams also hold back trillions of dollars in goods traveling between different markets every year. As our recent Metro Freight report shows, places matter when it comes to the country's goods trade, particularly large metro areas like New York and Los Angeles that suffer some of the worst congestion seen nationally.
Representing the critical hubs for goods production, consumption, and distribution, the 100 largest metro areas transport $16.2 trillion in products annually—or nearly 80 percent of all the country's freight. Even more critically, though, over two-thirds of these goods are carried by trucks, which often traverse multiple states on their long-distance journeys. With anything from metals and machinery to electronics and textiles riding our interstates all day and night, regional markets depend on an efficient freight network to forge economic connections with one another, yet their local congestion can restrict this movement.       
U.S. Long Distance Truck Loads and Highway Congestion, 2007; 
Regional Trade Volume, 2010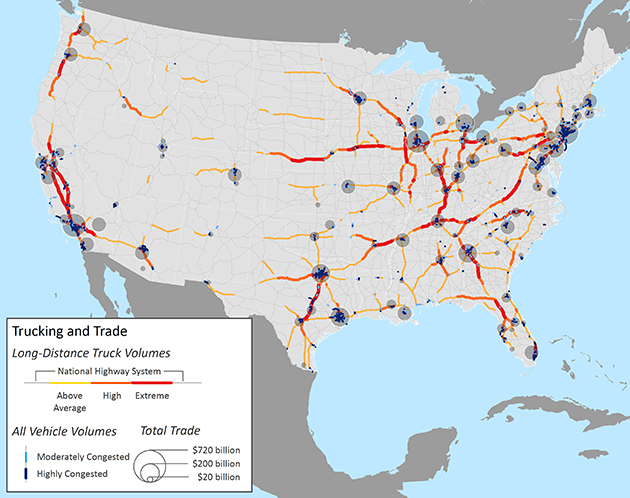 Source: Brookings analysis of Freight Analysis Framework 3.4 and EDR data



A closer look at the Texas Triangle, one of the country's most valuable trade corridors, shows just how costly congestion can be for truckers and travelers alike. All of the region's major highways move heavy truck volumes, including I-35 between San Antonio and Dallas and I-45 between Houston and Dallas. But it's primarily within the metro areas—especially Dallas and Houston—where traffic comes to a crashing halt. Local congestion slows a steady flow of goods to firms, factories, warehouses, and households in each area. While not shown, the same scenario plays out across several other major trade corridors, ranging from Los Angeles and San Diego to Baltimore and Washington.
Truck Loads and Highway Congestion in the Texas Triangle, 2007
Source: Brookings analysis of Freight Analysis Framework 3.4



At the same time, since every region of the country depends on at least one major hub to circulate their goods—from Atlanta in the Southeast to Seattle in the Northwest—these congestion concerns are unfolding throughout the country's trade network. Key chokepoints in Chicago and elsewhere, for instance, not only slow down flows in their own regions, but also dampen economic exchanges across all corners of the country, including those across multiple types of modes such as rail. As a result, congestion in one market can hurt regions hundreds or even thousands of miles away.
But for the first time, leaders at the federal, state, and local level can see how these regions connect with each other through their goods trade, domestically and internationally. Armed with this new knowledge, public and private leaders can better target infrastructure investments in high-volume trade corridors and develop more comprehensive, multi-modal freight strategies. Rather than spreading investments evenly across the country or limiting attention to individual projects, it's time to tailor our freight improvements in light of location-specific concerns.