The Avenue
Getting to Know the Brazilian World Cup Cities
Did you know that when the World Cup kicks off this afternoon in São Paulo, it will do so in a metropolitan area that houses one-tenth of Brazil's population, but accounts for one-fifth of Brazil's economy? Or that as the U.S. team battles to make it out of Group G, it will take to the field in the "Venice of Brazil" (Recife) as well as a major inland port in the Amazon rainforest (Manaus)?
Coinciding with the Global Cities Initiative's 2012 international forum in Sao Paulo, Brazil, the Metropolitan Policy Program provided demographic and economic snapshots of the 13 Brazilian metro areas that rank among the world's 300 largest metropolitan economies. These profiles illustrate how metros, from the well-known Rio de Janeiro and Brasília, to the lesser-known Belo Horizonte and Fortaleza, contribute to national economic growth and demographic change. They may also be helpful in tracking the potential economic impact of various strikes and protests.
Metro Brazil profiles 10 of the 12 locations (Natal and Cuiaba are the two missing) hosting 2014 World Cup matches. From the nation's economic powerhouses to the home of Brazilian mass transit and urban planning, you can find it in Metro Brazil: an Overview of the Nation's Largest Metropolitan Economies.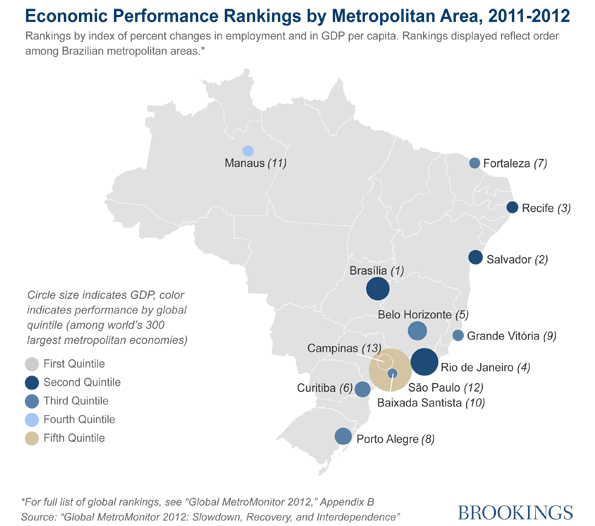 Former Research Analyst -
Metropolitan Policy Program
Former Senior Research Analyst & Associate Fellow -
Metropolitan Policy Program