Each year the World Bank produces the World Development Report, which tackles an important policy issue. The topic of the 2016 edition is 'the Internet for Development.' The report will look at the various ways in which the Internet can promote growth, jobs, and public services: how it can be used as a force for development. At the same time, it will also examine some of the potential risks, for example, might the Internet increase existing inequalities?
The report will examine several different questions aimed at better understanding the relationship between the Internet and development. The researchers intend to investigate Internet access gaps between people of different education levels and the urban/rural divide. They will also examine why some countries derive greater benefits from the Internet than others. Finally the authors will suggest policy reforms to leverage the maximum value from the Internet.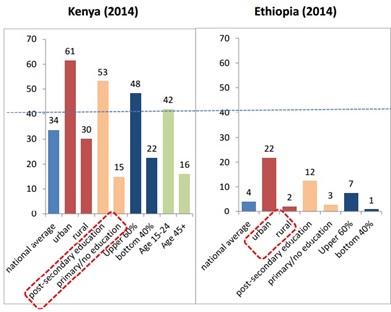 Source: World Bank
The World Bank is now giving you a voice in the preparation of this report through a weekly online poll. A new question will be posted every Thursday at 9am EST, giving you an opportunity to vote and contribute your thoughts to some of the important questions this report will examine. This past week the poll question was "Has access to the internet substantially improved your day to day life?" As of this morning about 95 percent of respondents answered, "Yes: I am completely connected "always-on," and have organized both my personal and professional life using the Internet." This week the question asks well respondents prefer the development philosophy of Eric Schmidt or Bill Gates. We're looking forward to participating and reading the full report. Let us know how you responded by tweeting with the hashtag #TechTank.
Ph.D. student -
Vanderbilt University
Former Research Analyst -
The Brookings Institution