Small- and medium-sized businesses play a crucial role in growing the economy. Startups are willing to take the risks that lead to innovation and create jobs. However, they tend to face many institutional barriers, especially in Europe. Many startups find that growing their business is as challenging as creating it.
European startups face many barriers including:
One- Incomplete hard and soft infrastructure
Europe does not invest enough in digital infrastructure.  There is also a shortage of workers who possess the skills that are needed the most (including technical, user, and IT-savvy business/entrepreneurial skills). Sourcing skills and talent across borders is also complicated and costly for small firms.
Two- Constraining framework conditions
Market fragmentation and overly cumbersome regulations present serious challenges for small and medium enterprises (SME). SMEs also face difficulties in obtaining financing, especially for smaller, riskier, and more innovative initiatives. Financing difficulties affect not only the ability to start, but also to grow a business.
Three- Culture
Europeans exhibit a lack of willingness to adopt new technologies.  Businesses and also citizens are less eager to adopt and integrate new technologies and applications into their daily workflows.
Economist and Program Lead Business Scenarios
Companies must overcome these challenges to build the sustainable competitive advantage that is crucial for success in the fast-moving digital world. Unless things change, many of these new ventures will fail, find it impossible to grow beyond the borders of their home country, or be taken over by larger (often non-European) companies.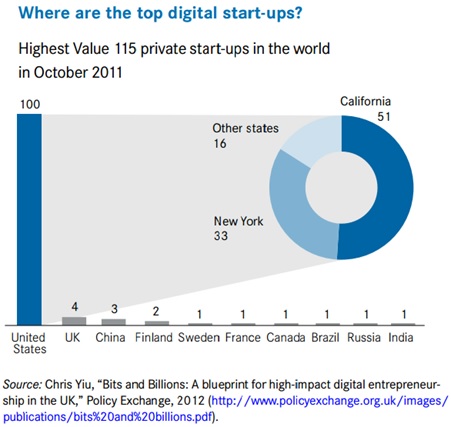 A wish list of policy priorities that can help European digital business grow faster and more sustainably includes:
The ability to employ and retain skilled people without incurring unacceptable recruitment costs or IP and/or information security risks

Better digital literacy among managers in both the public and private sector, which would help regulation and also educate business demand

University-level courses that integrate businesses skills and current business needs with technical training, and preferably also (mandatory) placements in companies

Cross-disciplinary masters courses, including ICT, to provide rounded and business-aware digital training entrepreneurs are missing in much of the EU

A larger role for SMEs in public procurement, and also more flexible and imaginative definition of support schemes
Simpler regulatory arrangements for small cross-country digital businesses that are trying to integrate skills from different countries into international business models
A "digital first" policy for government so that the public sector becomes a more informed digital customer, and leading to savings in service delivery

Acceptance of English as the language of ICT across Europe, thereby improving mobility of labor and of business systems, making it easier for small firms to pull together specialist skills from different countries, even if people do not move across borders and

Better access to equity finance, including at growth stage.
Interested to learn more? Check out the interactive web cast from the Conference Board with a panel of experts who will discuss the barriers to digital entrepreneurship in Europe.