John Villasenor, Lei Wen, and Jianwen Chen recently co-authored a Forbes blog post called "China's Wireless Industry in Ten Graphs". In it they use the latest data to illustrate the rapid growth of mobile technology in China. The graphs describe a fascinating picture of a country in the midst of a transformative ICT revolution. The rapid improvements to China's mobile infrastructure will have long lasting economic benefits.
Mobile Phones Continue to Replace Fixed-Line Phones
The number of fixed-line phone subscriptions has fallen every year since its peak in 2007. The ICT market in China has undergone tremendous change in the past two decades. From 1993 to 2007 the number of fixed-line mobile subscriptions increased over fifty times. The number of mobile phone subscriptions exceeded fixed-line in 2003 and has grown exponentially. The number of mobile phone subscriptions in 2013 is three times greater than the peak number of fixed-line subscriptions in 2007.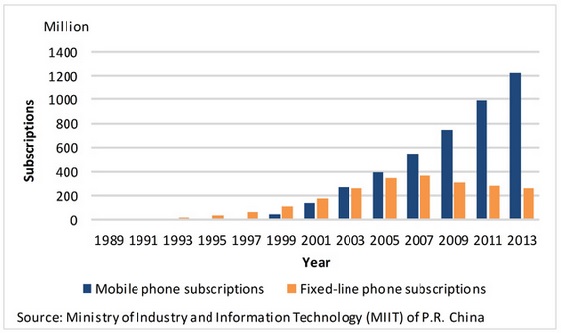 Mobile Internet Traffic Continues to Grow Quickly
Mobile Internet traffic has exploded over the past five years. From 2009 to 2013 it's grown over ten times. This estimate of traffic comes in a bit higher than the estimate from the Cisco Visual Networking Index. Cisco VNI estimated 1,116 thousand terabytes were transferred over Chinese mobile networks in 2013. Both forecasts find that Chinese consumers are using increasing numbers of bytes on their cell phones.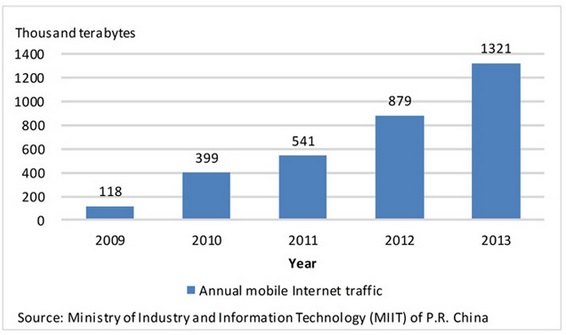 Mobile Phones are Big Business in China
Revenues from mobile phone-based wireless data services have far outpaced the growth of subscriptions and traffic. The number of subscribers has nearly doubled and traffic has increased about eleven times from 2009 to 2013. But, annual wireless data services revenue has grown an astounding twenty two times. In 2013 revenues nearly reached $32 billion.
Ph.D. student -
Vanderbilt University
Former Research Analyst -
The Brookings Institution