The COVID-19 experience illustrates the failure of markets in preventing pandemics and the potential of public expenditures on a global scale to eventually spur a response. In a similar vein, the world's top carbon emitters, China, the United States, India, Russia, and Japan—responsible for a combined 60 percent of global effluents (Table 1)—have done little to avert a climate catastrophe, and they must now lead a global fiscal stimulus to tackle the problem. A big difference from the COVID-19 experience: Climate spending is not just to put money in people's pockets, but to promote low-carbon economic growth.
Table 1. Top carbon emitters
| | | | |
| --- | --- | --- | --- |
| Country | 2018 CO2 Emissions | Global share | Change since Kyoto Protocol |
| China | 9.43 | 27.80% | 54.60% |
| U.S. | 5.15 | 15.20% | -12.10% |
| India | 2.48 | 7.30% | 105.80% |
| Russia | 1.55 | 4.60% | 5.70% |
| Japan | 1.15 | 3.40% | -10.10% |
| Germany | 0.30 | 2.10% | -11.70% |
| South Korea | 0.70 | 2.10% | 34.10% |
| Iran | 0.66 | 1.90% | 57.70% |
| Saudi Arabia | 0.57 | 1.70% | 59.90% |
| Canada | 0.55 | 1.60% | 1.60% |
Source: Forbes
Note: Emissions in billion metric tons.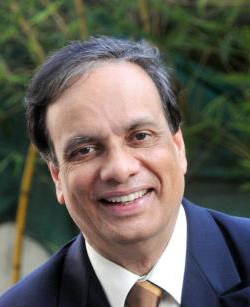 Distinguished Fellow -
Asian Institute of Management, Manila
Former Senior Vice President -
World Bank
The invisible hand, if not a guiding hand, of the government usually suffices to avert problems in well-functioning markets. But with the extreme failure of markets and massive spillover of damages from economic activities causing global warming, solutions call for a stronger hand of government, much as in the case of COVID-19.
The economic rationale for a well-implemented climate stimulus is fourfold:
While the case for climate action now is loud and clear, the challenge remains intimidating. For global temperatures not to exceed 1.5 degrees centigrade, carbon emissions need to be cut by 7.6 percent yearly, which would bring down emissions in carbon equivalence to 25 gigatons by 2030. This would be sharply different from the current trends (Table 2), which in the best case of following the current pledges shows a level well above 25 gigatons in 2030 and temperatures accordingly headed well above the 1.5 degrees centigrade threshold.
Table 2. Trends in global emissions
Source: BBC
So, to make a difference, sizable resources need to be committed for low-carbon activities, even at the expense of less critical objectives. In principal, this would seem doable with the perspective of the COVID-19 action. Compared to the $2.4 trillion per year cost of carbon transition, the group of the largest 20 economies committed $5 trillion in 2020 for the pandemic stimulus packages.
The clearest trade-off to be made in spending would be eliminating the subsidies for fossil fuels. Globally, coal, oil, and gas get nearly $400 billion yearly in subsidies, which balloons, by one estimate, to $5.2 trillion (in 2017) in total costs when the environmental and health damages are accounted for. On the other hand, there is a justification on social welfare grounds for incentives to be given for renewable energy.
The biggest carbon emitters, like the United States and India, are also at the high end of countries most damaged by climate impacts. Therefore, the socioeconomic rationale for them to lead a fiscal action plan to transition to low-carbon growth is clear. What's needed is for the leadership in these countries to muster the political will to choose a low-carbon growth path.
We have become so dependent on technology — we use it for our groceries, we tap into it for our health care. And these companies have created a new stream of jobs, as we've seen other industries disrupted over the course of not just the pandemic, but the last few years. [...] We're missing opportunities when we dismiss the potential of technology, not just from a consumption standpoint, but from a production and development standpoint.