FixGov
At DNC, Mothers of the Movement to humanize policy debates around criminal justice
On the evening that delegates vote to nominate Hillary Clinton for president, "Mothers of the Movement"—a group of mothers of the black men, women, and children whose deaths have galvanized Black Lives Matters activists—will share the stage with President Bill Clinton and deliver a primetime address. Remarks are likely to underscore the importance of reforming the nation's criminal justice system, a key issue in the 2016 Democratic Party Platform. The group includes the following women:
• Gwen Carr, mother of Eric Garner, who died in a chokehold administered by a NYPD police officer in Staten Island, New York.
• Sybrina Fulton, mother of Trayvon Martin, who was shot to death by George Zimmerman, a neighborhood watch captain in Sanford, Florida.
• Maria Hamilton, mother of Dontré Hamilton, who was shot 14 times by a police officer in Milwaukee, Wisconsin.
• Lucia McBath, mother of Jordan Davis, who was shot to death after an altercation over stereo music Jacksonville, Florida.
• Lezley McSpadden, mother of Michael Brown, who was shot to death by a police officer in Ferguson, Missouri.
• Cleopatra Pendleton-Cowley, mother of Hadiya Pendleton, who was shot in the back in a neighborhood park in Chicago, Illinois.
• Geneva Reed-Veal, mother of Sandra Bland, who died in police custody in Hampstead, Texas
Brookings' Bill Galston recently penned a comprehensive report entitled "Framing the debate on criminal justice reform: What citizens and policymakers should know."  By situating decades-long trends in crime and punishment in the appropriate historical and comparative contexts, Galston aims to provide citizens and policymakers with a framework for assessing the challenges of criminal justice reform on an evidentiary basis. This report provided the analytical basis for a series of blog posts that examine a number of issues at the heart of the Democrats' criminal justice reform platform.
The Democratic Platform states that "research and evidence, rather than slogans and soundbites, must guide criminal justice policies." This includes the pledge to end mass-incarceration. To understand the state of the nation's criminal justice system and evaluate the challenges and opportunities of the proposed reform, Galston writes, it is important to first consider the magnitude of the U.S. incarcerated population. In addressing mass incarceration with evidence-based reform, Galston draws from the data to assess the scope of the prison population buildup, squaring the evidence with recent proposal for congressional reform.
The Democratic platform continues with a pledge to interrupt the school-to-prison pipeline by investing in education and jobs for justice-involved individuals. In creating educational opportunity for incarcerated students, Galston spotlights Second Chance Pell, the current administration's experimental program that allows eligible prisoners to receive Pell Grants to pursue higher education opportunities. Citing a body of social science research on the association between education and recidivism, Galston writes that expanding educational opportunity for incarcerated students realizes the twin goal of rehabilitating individuals and fostering safe communities. With recidivism rates standing at 77 percent after five years, removing barriers to successful re-entry is a matter of paramount public safety concern.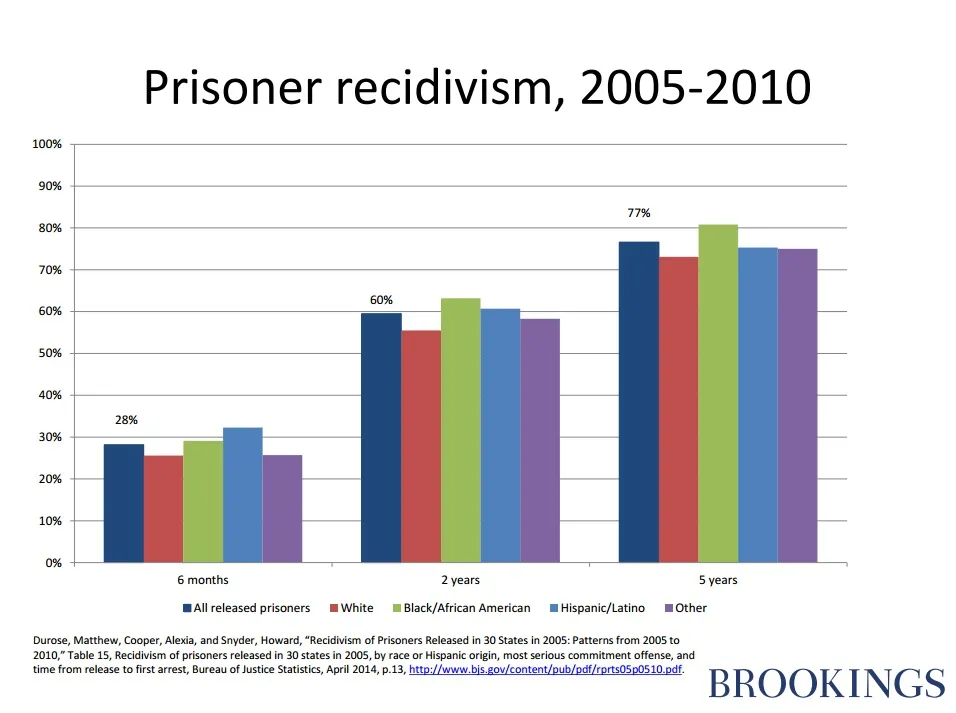 Finally, the Democratic Party Platform pledges to rehabilitate, rather than incarcerate, non-violent drug offenders. In criminal justice reform: the facts about federal drug offenders, Galston breaks down the composition of individuals sentenced to federal prison for drug crime, concluding that fewer than half of offenders (41.4%) are involved with the organization and/ or management of drug trade: high-level supplier/ importer, organizer/ leader, grower/ manufacturer, wholesaler, manager/ supervisor. The majority (56.7%) are low-level offenders—street level dealers, brokers/ steerers, couriers, and mules—who play who play a relatively low-level role in drug distribution.
Americans are increasingly polarized on issues of police, race, crime, and incarceration. As the general election draws near and the political environment intensifies, using evidence to ground debate on criminal justice reform will be of utmost importance. A group of mothers whose children's lives have been cut short will not ensure passage of these reforms, but tonight, the DNC will put a human face—a series of faces—on a complex set of public policies that are supported by research and bridge the partisan divide in Washington.