There has been an exodus of expertise from Capitol Hill and its consequences heighten Congressional dysfunction. The principal reason for Congress' decline in expertise in recent decades is the erosion of the committee system as the powers of party leaders were increased.  It began in 1975 with the dismantlement of the seniority system for choosing committee chairmen and their consequent subordination to the Democratic caucus and leadership.  It accelerated in 1995 when House Republicans eliminated 600 committee staff positions (the one-third reduction promised in the Contract With America), the Speaker took de facto charge of appointing chairmen, and six-year term limits were imposed on committee and subcommittee chairmen, leaving little time for them to learn their subjects before being forced to move on.
A complaint I hear increasingly from corporate lobbyists, citizen advocacy groups and even current Hill denizens is that very few members and staff have real expertise in the areas over which they hold major legislative and oversight responsibilities.  We are talking here primarily about committee and subcommittee chairmen, their minority party counterparts, and their professional staff assistants.   
 
In fairness, it has never been realistic to expect top committee members and staff to equal the technical knowledge of experts in the executive branch, private sector or think tanks.  Congress exists to cull information from those in the know, digest it and make the best decisions possible based on differing views, facts, perspective and options.  Nevertheless, key members and staff must develop a sufficient knowledge base from which they can separate the wheat from the chaff and advise their colleagues in a clear, concise and informed manner.  For this to continue to happen, Congress must do all it can to attract and retain individuals with high levels of issue-specific expertise.
During this exodus of talent, Congress has moved from a system of committee governance to one of party governance.  In the wake of these changes, there are fewer incentives for committee members and staff to develop expertise and apply it when they know the real action and decision-making is taking place behind closed doors in leadership offices. 
One non-scientific measure of this shift in power is "The Roll Call Fabulous 50," a listing of top congressional staffers published periodically by the popular Capitol Hill newspaper.  (Disclosure: I write the "Procedural Politics" column for Roll Call).  The list is developed by the reporters and editors at Roll Call based on "their institutional knowledge of what positions hold the most power."  They use four criteria for evaluating staff: mastery, spin, influence and access.
When the listings first appeared in the late 1980s, committee staffers clearly outnumbered leadership staff.  The first listing in 1988 had 27 committee staffers (54%) and 21 leadership staff (42%), with a smattering of staff from members' personal offices.  The most recent listing in February of this year had just 11 committee staff (22%) and 38 leadership staff and congressional campaign committee staffers (76%).  The graphics below illustrate how this shift has evolved over the years.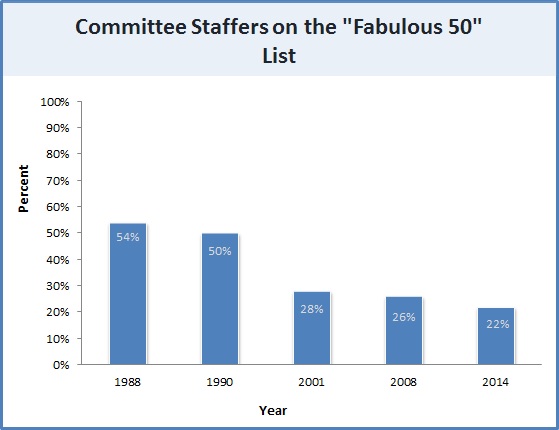 All of this might not be so disturbing if one assumes that every leader has knowledgeable experts on the key issues confronting Congress.  While leadership staff members are assigned various issue areas, they are not so much expected to be policy experts as they are communications experts.  Their principal role is party messaging, not policy making. The politically savvy are rewarded at the expense of the policy wonk. Surely, this transition in personnel is not the singular cause of a breakdown in the legislative process, but it should come as no surprise that Congress now struggles to address America's policy problems in effective ways.Sadly, today there are fewer committee staff of high-level expertise given their eclipse in importance by their leadership colleagues.  Top committee experts move on to the lobbying world where the pay and hours are better.  Those who remain hone their communications skills in hopes of one day becoming top leadership staff.   
Don Wolfensberger is a congressional scholar at the Bipartisan Policy Center and the Woodrow Wilson Center, a Roll Call columnist, and former staff director of the House Rules Committee.