The United States is "the most metropolitan of nations," says Bruce Katz, vice president and director of the Metropolitan Policy Program in a new podcast on Sirius XM's "POTUS Politics" show. Noting that all U.S. cities and suburbs together comprise 84 percent of our population and 91 percent of our GDP—and the top 100 metros cover only an eighth of the landmass—Katz  observes that "everything that matters—talented workers, modern infrastructure, an innovative ecosystem" are found in these areas, and because people are concentrating in metro areas, the U.S. "is more productive, more competitive, [and] more prosperous." Listen to the full program here:
In the show, after an opening dialogue with host Tim Farley, Katz engages three metropolitan leaders in discussions about the opportunities and challenges they face.
He asks John Fry, president of Philadelphia's Drexel University, how cities can supercharge their innovation economies in a way that works for low-income residents nearby. Drexel is a leader in the broader West Philly/University City innovation district, but, as Katz notes, is less than a five-minute drive from some of Philadelphia's poorest neighborhoods.
He speaks with Mary Sue Barrett, president of the Chicago Metropolitan Planning Council, about the state and future of infrastructure in Chicago today. Their conversation touches on the broad range of infrastructure assets—roads and bridges but also electrical and broadband networks, freight connections via rail and air, and water/environmental projects—and also the central role played by the local level, as opposed to the federal government.
Finally, Katz and Angela Blanchard, CEO of Houston's Neighborhood Centers Inc., engage in a conversation about the importance of the demographic transformation underway and the opportunity it presents to integrate tens of millions of people into our society and economy. "Houston is America on fast forward," Katz says.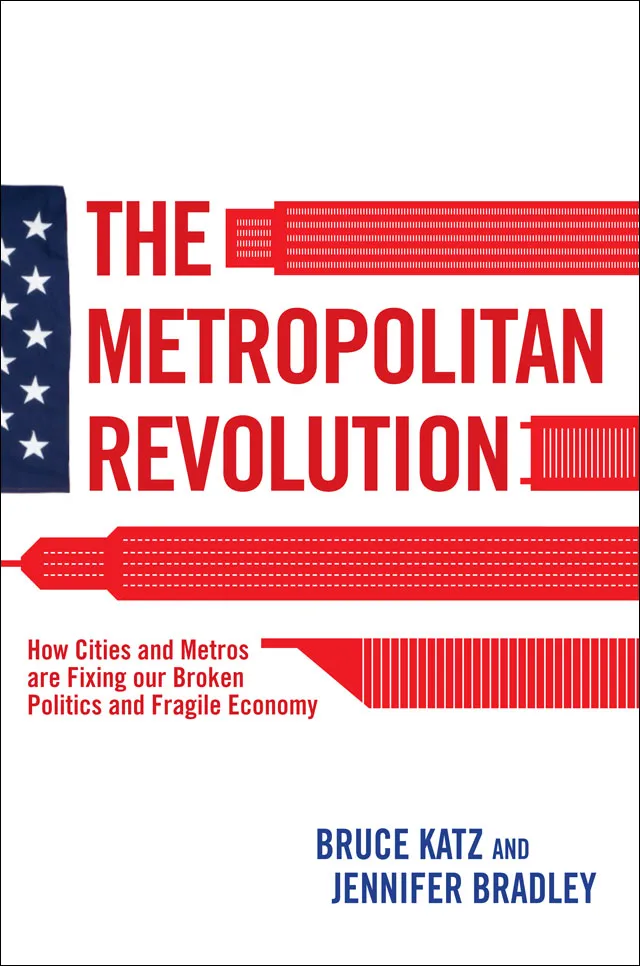 The podcast conversation reflects the work that Katz and Jennifer Bradley, a fellow in the Metropolitan Policy Program, are doing to understand and identify how networks of metropolitan leaders—elected officials, educators, philanthropist, and business and labor leaders—are leading the way in creating solutions to take the country forward. In their book, The Metropolitan Revolution: How Cities and Metros are Fixing Our Broken Politics and Fragile Economy, Katz and Bradley highlight success stories from Miami to Portland, from Boston to Los Angeles, and many places in between.
As Katz puts it in the podcast:
The health and vibrancy of our country is not dependent on 537 elected officials in Washington, DC. There are really tens of thousands, hundreds of thousands of leaders out there, and citizens, in our cities and metropolitan areas [who] are rolling up their sleeves every day and putting their shoulder to the wheel.
Bruce Katz is the Adeline M. and Alfred I. Johnson Chair in Urban and Metropolitan Policy.