The most challenging, and potentially most transformative, part of Crown Prince Mohammed bin Salman's bold ambitions for the Kingdom of Saudi Arabia is his agenda for "restoring" (he rejects the term "reinterpreting") Islam. The young crown prince says he wants to sweep away extreme religious interpretations that have accrued over the years, especially in gender relations. He wants to return to a "moderate Islam that is open to all religions and to the world." As he told TIME earlier this year:
And this is what we are trying to show to the Saudi people and to challenge them with the practice of the First, Second, Third Saudi Arabia before '79 and also the practice of the Prophet himself in his days. So if someone comes and says "women cannot participate in sport," we tell them how about the Prophet raced with his wife. If someone comes and say "women cannot do business," the wife of the Prophet, she is a businesswoman and he used to work for her as a Prophet. So also the Prophet's practice, it is in our side. So I believe we can do it very fast. We are not wasting time. I don't want to waste my time. I am young. I don't want 70 percent of the Saudi population to waste their lives trying to get rid of this. We want to do it now. We want to spend 70 percent of our time building things, improving our economy, creating jobs, creating new things, making things happen.
When I think of what women living such a grounded-but-open Saudi Arabia might look like, I think of Hatoon al-Fassi, who showed me from the first moment we met a model of a Saudi woman who is proud in her heritage, faith, and family, and equally confident in her contribution to public affairs. That's why it is mystifying that Hatoon has now spent more than a month in detention in her home country, at precisely the moment when the causes she's long supported are now seeing unprecedented gains. She is among about a dozen women activists detained by authorities as the Kingdom implemented a policy change they long sought: lifting the ban on women driving.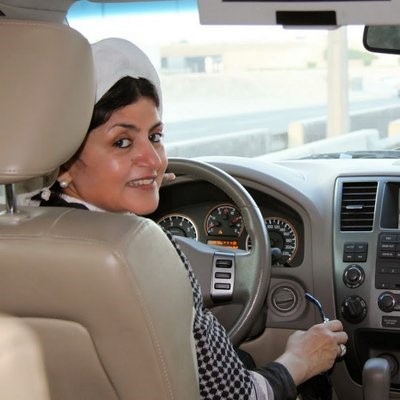 Hatoon al-Fassi behind the wheel.
Hatoon and I met years ago at a workshop on relations between the Middle East and Western countries, held over several days in some lovely European capital. It was when we broke for coffee on the first day that Hatoon really blew me away. She moved to a room next door to our coffee break, picked up her infant son from the hired babysitter who'd been watching him during the meeting, and sat down to nurse him. I had left my two young children at home to come to Europe, and it had never occurred to me that I might be able to attend a foreign conference with a nursing baby; I think I must have expressed my astonishment, and asked how she managed to make the necessary arrangements. She replied simply that she'd told the organizers she was nursing, and that she could only attend if they arranged child care on site—and they complied.
Hatoon's calm, simultaneous assertion of her professional value and her motherly responsibilities reflected her pride and confidence as an educated, professional Saudi woman who was also a wife, mother, and a Muslim of deep faith. This combination of qualities has made her a role model for women across the Arab and Muslim world looking to combine tradition and modernity. They have also driven her through a quarter-century of efforts to help Saudi women claim their place in society. From establishing a forum for Saudi women academics in the 1990s, to campaigning against domestic abuse in the 2000s, to educating women to participate in Saudi Arabia's municipal elections in 2015, Hatoon has been at the forefront of encouraging and supporting Saudi women toward full and equal participation in society, the professions, and public life.
Hatoon's academic scholarship documents the history of women in early Arabia and early Islam, and her active engagement has supported women across the Muslim world working within Islamic law, interpretations, and practice to advance gender equality. For 25 years, she has written a weekly column for Al-Riyadh newspaper in which she cajoles her fellow Saudis—men and women—to seize the opportunities presented by reform in the Kingdom and to advance protection for women and children in society. Where she sees room for the government to improve the lives of Saudi women and children, she has made constructive and specific proposals—many of which have been adopted over the years, like including women on the government's advisory Shura Council, or establishing government shelters for victims of domestic violence.
When the Kingdom's government allowed women with foreign driver's licenses to apply for Saudi licenses in June, Hatoon was so excited that she took her children with her to the government offices to get her license, and documented on Twitter her joy and pride at achieving this milestone. Shortly afterward, she was quoted telling a reporter: "I am hopeful." The next day, she was taken away from home by state security personnel for questioning. She remains in detention and separated from her family.
I've visited the Kingdom of Saudi Arabia twice this year, and the swift pace of change is palpable—from officials in Riyadh rushing to complete the city's new public transit system, to the young families enjoying an evening of music at one of the city's proliferating cultural festivals. The young women I spoke to were elated at the prospect of new professional opportunities in government and the private sector. Through her teaching, her scholarship, her newspaper columns, and her own example, Hatoon has helped prepare a generation of Saudi women to participate in this change.
Hatoon al-Fassi is the epitome of the Saudi Arabia Mohammed bin Salman has told Western audiences that he is seeking to create: a proud nation that is looking to the future, "developing our society and developing ourselves as individuals and families, while retaining our religion and customs." It's deeply sad and ironic that women who have spent years preparing Saudi society for this future are now imprisoned and silenced. Young Saudi women, seeking to navigate new opportunities in education and employment while holding true to their values, need Hatoon al-Fassi's wisdom and example showing them the way. I hope they will see her again, and soon.