India, the world's largest democracy, is in the middle of a historic, month-long election to elect a new prime minister and members of the 16th Lok Sabha. Today, the Asia Society Policy Institute, the India Project at Brookings and McKinsey & Company hosted a discussion to explore the challenges, opportunities and critical choices faced by the country and its leaders, which are also outlined in a new publication, Reimagining India: Unlocking the Potential of Asia's Next Superpower (McKinsey & Company, Inc., 2014).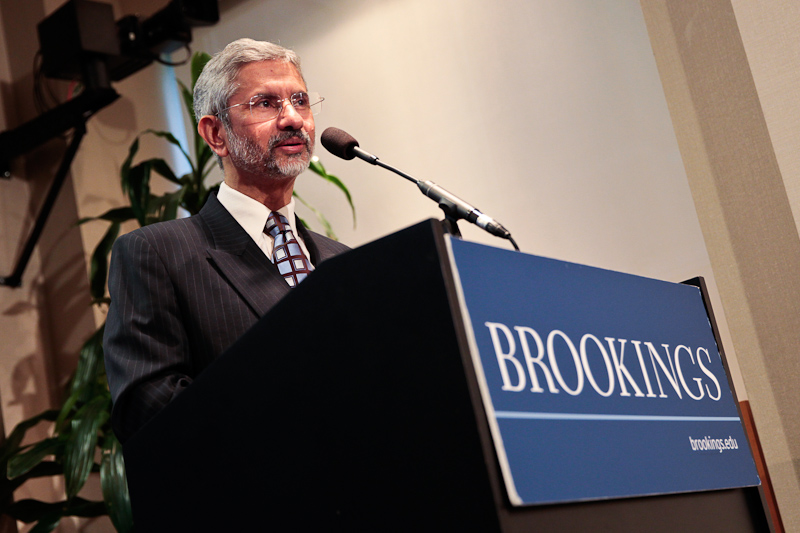 India's ambassador to the United States, Dr. S. Jaishankar, gave a keynote address, and was followed by a panel of experts including: Brookings President Strobe Talbott; Senior Fellow Stephen P. Cohen; Christopher Graves, global CEO of Ogilvy Public Relations; and Adil Zainulbhai, senior advisor to McKinsey India. Tom Nagorski, executive vice president at the Asia Society provided introductory remarks.
Video highlights of their remarks are below.
---
[W]hen it comes to India we are told our strengths are in our diversity and in our improvisation skills. Now I'm not disputing the merits of the first. But the downsize of a Plan B culture is that its commitment to Plan A is rarely as dedicated as it should be.  The magnitude of challenges brought out by this volume leaves little doubt for the need of a serious and sustained response to all the challenges in the book. — Amb. Dr. S. Jaishankar
---
At the end of the day we will be judged by how we pass the twin tests of ambition and performance. — Amb. Dr. S. Jaishankar
---
[India and Indians] tend to be extraordinarily bipolar. When things are good we are on top of the moon and when things are bad we are just at the bottom. And actually neither of those is the appropriate way to think about India. — Adil Zainulbhai, McKinsey India
---
[Narendra] Modi has close relations with China, Japan and South Korea; bad relations with the U.S. And I think that he's going to expand this into a strategic advantage for India. — Stephen P. Cohen, Brookings
---
[F]oreign investors see Gujarat, as a state, as very business friendly. They see their chief minister therefore by extrapolation as business friendly. And this is of course Narendra Modi who is hoping to be the next prime minister of India. — Christopher Graves, Global CEO, Ogilvy Public Relations
---
I think in a way that is in some ways perhaps very Indian and in other ways a little surprising, India is underestimating the extent to which it really is now a global player. It is not just a regional player. — Strobe Talbott, President, Brookings
---
Get event audio and archived video here.
---
Over the past year, the India Project at Brookings has hosted other events that looked at India's elections:
India's 2014 General Election: A Preview (4/8/14)
India Goes to the Polls: The State Elections and Beyond (12/18/13)
Elections in India, the World's Largest Democracy (12/13/13)
Recent Political Developments in India: The Other Leadership Transition (2/14/13)