Yesterday, Brookings hosted a discussion on the current state of the Ebola crisis, with USAID Administrator Rajiv Shah; Eric Postel, assistant to the USAID administrator for Africa; and a panel of Brookings experts plus Oscar Bloh, the chairperson of the Civil Society Organization Ebola Response Taskforce, Liberia and also country director, Search for Common Ground Liberia. Listen to the complete audio here. The administrator's opening remarks are presented below (edit some for clarity). 
Clearly the Ebola crisis is one of the toughest challenges we face. Since March we've seen in West Africa about [13,000] people get Ebola; more than 5,000 of them unfortunately have died. By far and away the worst endemic crisis we've had in the context of an Ebola outbreak anytime in last four decades. And it is true and worth remembering, because of the extraordinary focus—appropriately—on American safety and security from this disease, as President Obama has noted, we're only going to succeed at protecting ourselves if we succeed at controlling this virus at its source in West Africa. And I think that is important to continually remind ourselves when we look at how we allocate resources, effort, and set policy on a host of issues that allow us to either succeed or not against that task. …

West Africa was growing rapidly prior to this crisis. All three countries that are endemic are post-conflict but they were experiencing rates of growth bordering on 10 percent a year. They were experiencing some of the fastest reductions in child and maternal mortality anywhere on the continent and anywhere around the world and they were working hard with leaders like Ellen Johnson Sirleaf to build systems in their governments, fight corruption, [and creating] the basis for investment and growth. And in fact [they] had become a destination for major private investments.

So the context here is one of both resource scarcity and poverty and also one of growth and hopefulness that has unfortunately been unwound considerably by this crisis. …

I think today there are somewhere around 3,000 current active cases in West Africa. Liberia, which had been the previous epicenter of the disease, has seen over the last 8 weeks (and I think in large part due to the leadership the United States has shown with others) … a rapid, and significant, and sustained reduction in the number of new cases we see on a day-to-day basis. I think that reduction has been driven by a science-oriented, evidence-based strategy that has prioritized efforts like removing bodies of the deceased rapidly through safe burial teams, that in a dignified way are removing now north of 95 percent of those who die from Ebola within 24 hours, having a dignified burial in a body bag that is WHO approved and avoids the risk of spreading the disease. Seventy percent of spread of transmission was basically people hugging, kissing, washing, and touching dead bodies. And so we've seen a rapid reduction in transmission with that type of strategy.

In Sierra Leone, the United Kingdom is taking a lead international partner role, with UK military and my counterparts at DFID, the Department for International Development, … leading the international response in Sierra Leone. I assess that there are probably about 1,500 active cases in Sierra Leone right now. That number has been going up quite rapidly. And they are learning from and adopting some of the successes we've seen in Liberia over the last several weeks to accelerate reduction in that context.

And then finally, Guinea is where I'm quite concerned, especially in the difficult to reach forest region and rural areas. There are anywhere from three to five hundred current active cases and the elements of international effort and control of the disease are not yet in place in that environment. So we are very focused on finding partners who will go out there and work in those difficult to reach communities and change mind set and behavior. …

You'll read a lot about Ebola treatment units and the need to have a viable treatment capability for those with Ebola, and that's a big part of the response. What I think folks don't realize quite as much is that changing behavior actually does more to reduce transmission than virtually anything else. And during my trip throughout the region, you elbow bump instead of shaking hands; before going into any building you wash your hands and feet with chlorinated water; there are billboards everywhere in Monrovia that say Ebola is real, here is the hotline to get access to services.

And the more you can help entire societies change basic cultural practices and simply stop touching each other, the faster you can reduce the rate of transmission of what is otherwise actually a somewhat difficult disease to transmit. So a big part of the focus that doesn't usually get a lot of press attention but I think deserves it is the fact that communities themselves and the behaviors they choose are a big part of the solution here. I think we can succeed.
Shah also spoke to the potential of using mobile phone technology to improve the global health system. "These might be poor countries but everybody has a mobile phone," he said. He added that:
It should be possible to imagine a global health security system that helps us understand where are there outbreaks of different diseases; where can we, for pennies for dose, save young children who would otherwise die of pneumonia or diarrhea; where are health systems not reaching communities. … Until we build a global health system that can track diseases, provide vaccinations, and immunity to children around the world, the likelihood of further consequences is very, very high.
Postel (pictured, on right, with Administrator Shah) spoke to how, beyond the immediate response to the crisis, the agency is looking to how to "really help these countries rebound very quickly." And not only the three most affected countries—Liberia, Sierra Leone, and Guinea—but also others. As he explained:
These other governments are seeing what's happening and we see a real increase in their interest and their focus not only in trying to make sure that the crisis doesn't reach there but also realizing the importance of health systems in their countries. So while our emphasis is on these three countries, we've already got active work working with other U.S. government colleagues to try to help increase the capabilities of the health care systems of other countries in the region so that it's not just those three countries that can benefit from this renewed focus on health systems.
Shah ended the segment by hoping that Congress "supports the emergency request [for $6.2 billion in emergency aid to fight Ebola] because that's what it's going to take to sustain our ability to do this for a full year."
Brookings President Strobe Talbott moderated the discussion with both Shah and Postel.
---
The panel discussion, moderated by Senior Fellow Michael O'Hanlon, the Sydney Stein, Jr. Chair in International Security, started with Mr. Bloh (pictured at left) observing that "Ebola is a public health issue. But equally, it's a governance and accountability issue. Ebola in the region has questioned government's capacity to provide quality service delivery. It has questioned how we provide aid to post-conflict countries. It has questioned how we define fragility in a post-conflict environment."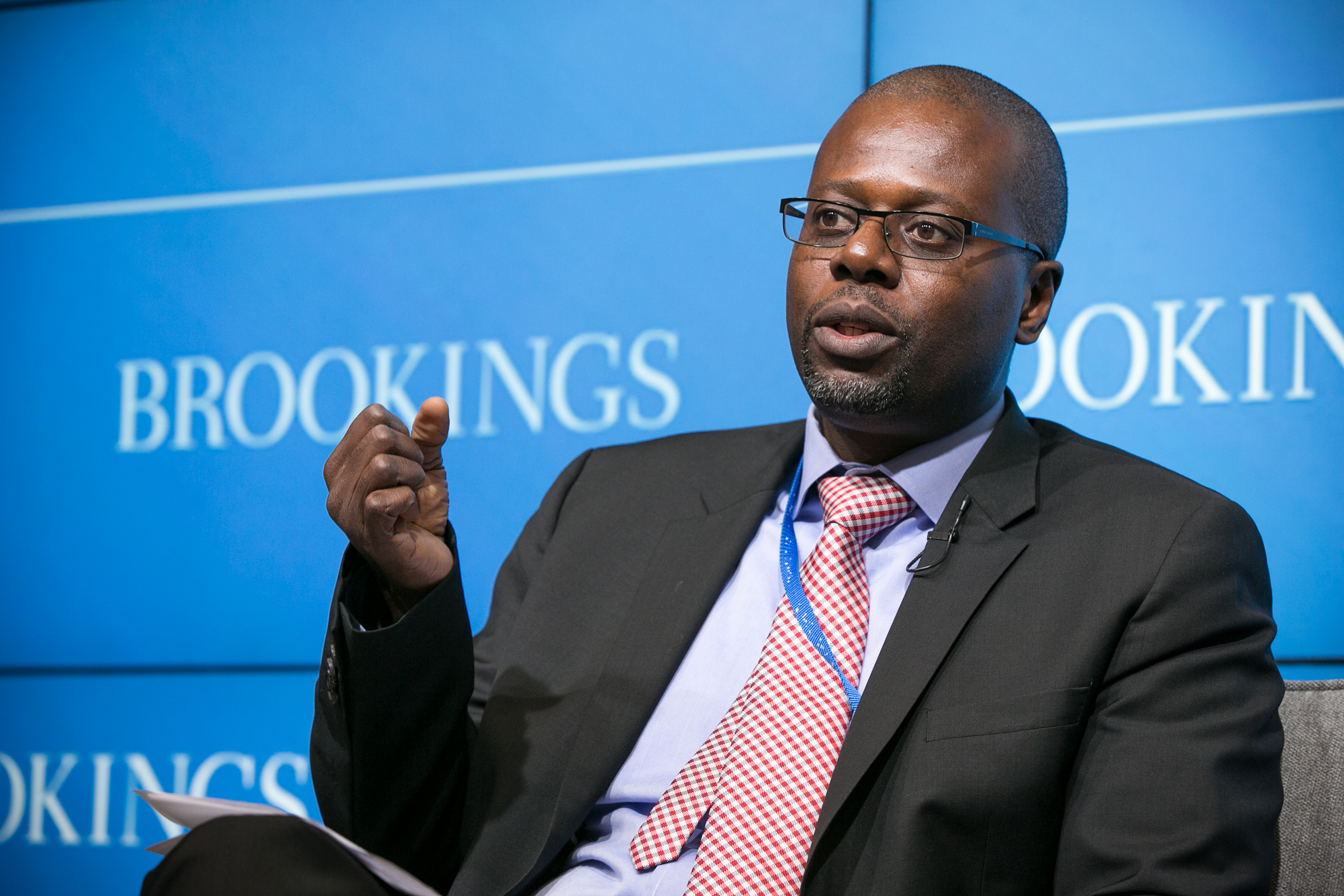 Amadou Sy (pictured, right), a senior fellow with the Africa Growth Initiative at Brookings, spoke to the economic consequences of the Ebola crisis, saying that while "the humanitarian impact is the first order of priority … the economic impact of this outbreak also has some effect on [peoples'] lives." Focusing mostly on Liberia, Sy added:
If solutions are not found very quickly, if you are not able to come back to your trend growth, you will have a permanent shock. So it means that your whole economy, which was able to grow at 6 percent before with its capacity suddenly doesn't have the capacity to grow as fast as it could before. You have this permanent shock to your economy and that would be really, really terrible for a country that has been able to rebound. Basically, my main point is there's an urgency here to move quickly and avoid having the economy really lose the engine of growth … and have smaller engines of growth.
Sy noted two immediate needs: "restoring the government's ability to provide service, to play its role as a government," which entails helping it meet the increasing fiscal deficit. The second is "to avoid this permanent shock in the economy" by making sure sectors such as education, agriculture, and investment "are not permanently hit."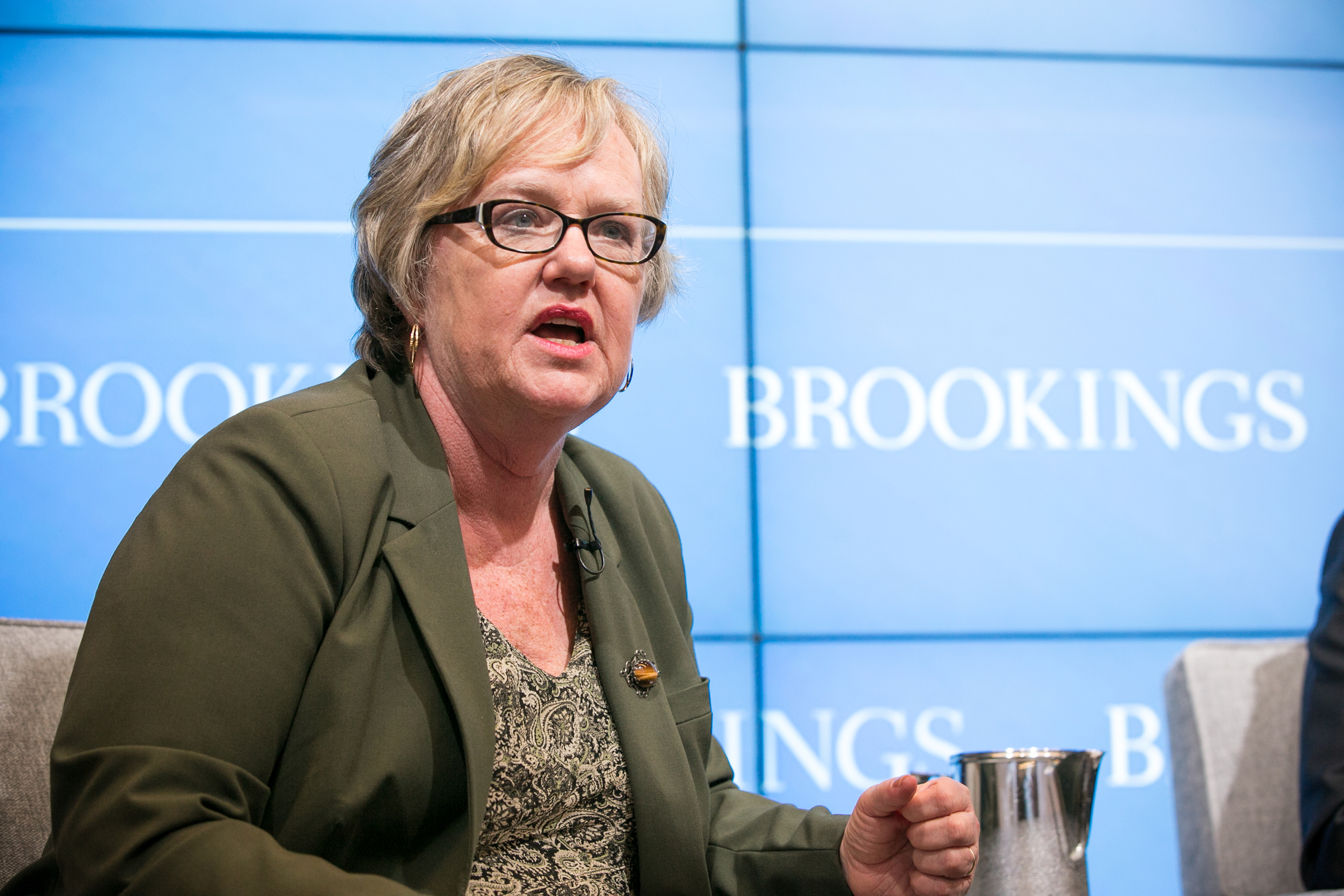 Senior Fellow Elizabeth Ferris (pictured, left), co-director of the Brookings-LSE Project on Internal Displacement, spoke how the Ebola crisis is putting a severe strain on the staff of USAID and the global humanitarian community. "We have got at least a dozen major complicated crises going on right now," she said. "I don't think humanitarian agencies can do it all," she added. And then, citing data on the persistence of humanitarian crises such as displacement and refugees, she said that:
I think there have to be some limits. … But something is wrong when you have so many crises that drag on for so long. Maybe it's time for the humanitarians to say, ok we'll be there for three years, we hope development agencies will come in; we hope some others will pick up the pieces. But maybe we need to admit we can't do it all and we certainly can't do it all and do it well.
Ferris also called for more focus on the gender dimensions of the disease outbreak. 
Visit the event's page for more information.