Citing security and fiscal changes since 2007, Chief of Naval Operations Admiral Jonathan W. Greenert described to a Brookings audience yesterday the Navy's maritime strategy moving forward, emphasizing the "value of presence to be where it matters, when it matters as a sea service." In the event hosted by the Center for 21st Century Security and Intelligence at Brookings, and moderated by Senior Fellow Michael O'Hanlon—co-director of the center and the Sydney Stein, Jr. Chair—Admiral Greenert explained the importance of the "sea services [Navy, Marine Corps, Coast Guard] functions of power projection, sea control, maritime security, and … access."
Admiral Greenert, addressing the Obama administration's "rebalance" to Asia strategy, emphasized that the rebalance "is not single dimensional. It is not just about China … but China is a very important part of it." He explained in some detail how the U.S. and Chinese navies are engaged in dialogue and cooperation in a number of ways, including meetings of the heads of navy and interactions among junior officers at training locations and academies. Adm. Greenert said that "the navies are well suited to the task" of strengthening ties between U.S. and Chinese militaries and building understanding, as called for by President Obama and Chinese President Xi Jinping during their summit meeting at Sunnylands in California last year. Adm. Greenert elaborated on these points of cooperation:
We are frequently encountering each other in an international domain, the high seas. We encounter each other routinely out there on the global commons. And in a vast area we are often called together to cooperate on areas of shared challenges—humanitarian assistance, disaster relief, typhoons, tsunamis, volcanoes, that ring of fire in the Asia-Pacific region, counter-piracy all around the world. You're familiar with that. And it wasn't that long ago we met to search for that Malaysian aircraft, Flight 370.
"The challenge," the CNO said, "is to get rid of needless, unfounded, unprofessional cases in this interaction we're ultimately and inevitably going to have at sea. I'm talking about unsafe operations."
Admiral Greenert went on to detail the six initiatives underway among global navies, including China's, following the most recent Sea Power Symposium. These include: fleet training and the promotion of CUES—the Code for Unplanned Encounters at Sea; increasing port visits; establishing regular service chiefs communications; increasing academic exchanges; creating a human resources working group; and working on pre-approved exercises, including joint exercises on counter-piracy operations.
"We're committed," said Adm. Greenert, "to the security of the Asia-Pacific. The alliances are strong. And we will honor our treaties. The engagement is increasing both bilaterally and multilaterally and it's really part of that rebalance. But relationships that I spoke to both with the People's Republic of China [and] their navy—and India becoming an increasing opportunity—will not be at the expense of our allies. It is not zero sum."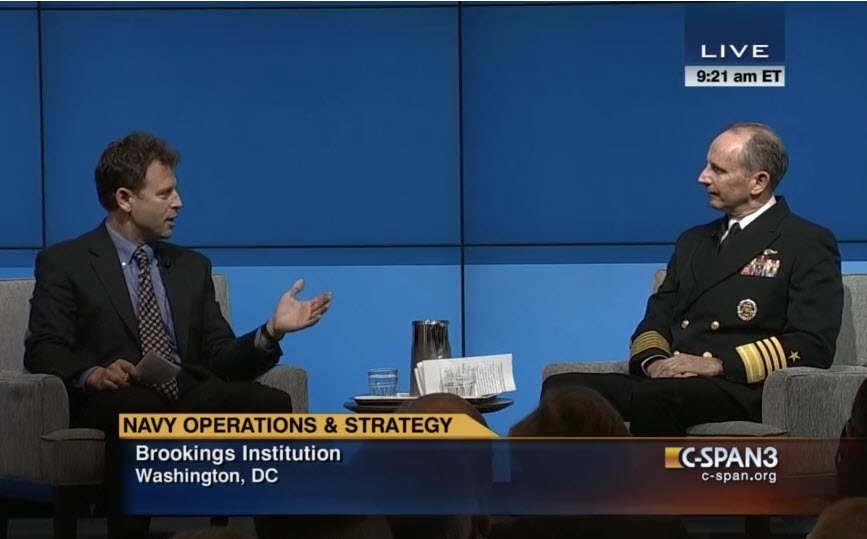 During the question and answer period, moderated by O'Hanlon, the CNO elaborated on a number of issues:
The Navy's plan to homeport 60 percent of its overall fleet on the West coast and in other parts of the Asia-Pacific basin by 2020 is on track.
The Navy's fleet size is currently 289 major ships, with a trajectory to reach 308 by 2020 and 317 by the latter part of the next decade.
Russia's military activities in international maritime regions have been quite "busy" of late, but generally professional.
The Pentagon's Air-Sea Battle concept now involves all the U.S. military services (not just the Navy and Air Force). It is not primarily about early preemption or escalation in a crisis or skirmish. Indeed, it contains a broad range of goals including some that China can cooperatively pursue with us.
The United States now has five shipyards where the Navy builds its vessels (in Maine, Connecticut, Virginia, Mississippi, and California), but some could be jeopardized, as could the Navy's plans to restore greater size to its fleet, by a return to lower budget numbers and especially to sequestration.
Long naval deployments of some ships today (eight months or more) are often a direct consequence of last year's sequestration.
China's naval capabilities are now growing at a pace that we find somewhat predictable, if also impressive and in some ways concerning.
Directed-energy weapons including lasers are now showing considerable promise in missile defense.
Listen to the full audio here: