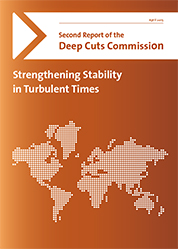 The Ukraine crisis and broader deterioration in relations between Russia and the West has created a heightened danger of unintended clashes between Russian and NATO military forces, and continues to deflate hopes for near-term progress on nuclear arms control. 
At the same time, arms control efforts could serve as a critical means of preventing the current tensions from having unintended consequences. Confidence-building and arms control measures can help facilitate an end to the conflict in Ukraine and arrest the slide of NATO and Russia toward a potentially more dangerous confrontation. 
The second report of the Deep Cuts Commission offers fifteen key recommendations and identifies a number of additional measures to build confidence and strengthen security in Europe, enhance global nuclear stability, and set the stage for further progress on reducing nuclear weapons.
The Deep Cuts Commission is a Track II effort composed of German, Russian, and American experts that seeks to develop ideas for overcoming the current challenges and obstacles to deep reductions in nuclear arms. Brookings Senior Fellow Steven Pifer is a commission member.