Brookings Senior Fellow Robert Kagan, along with his wife Victoria Nuland, has been named one of POLITICO Magazine's top 50 influential people in Washington, DC, a group of the "thinkers, doers and dreamers who really matter in this age of gridlock and dysfunction." The magazine describes them as "the ultimate American power couple."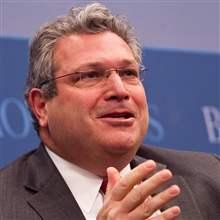 Kagan, who is affiliated with the Project on International Order and Strategy at Brookings, is the author of the bestselling book The World America Made, and articles such as "Superpowers Don't Get to Retire: What Our Tired Country Still Owes the World" and "Not Fade Away: Against the Myth of American Decline." He served in the State Department from 1984 to 1988 as a member of the policy planning staff, principal speechwriter for Secretary of State George P. Shultz, and as deputy for policy in the Bureau of Inter-American Affairs.
Nuland is currently assistant secretary of state for European and Eurasian affairs in the U.S. State Department, a position she has held since September 2013. During the Clinton administration, Nuland was chief of staff to Strobe Talbott, now Brookings president, then deputy secretary of state.
The magazine's citation notes that the couple "fell in love 'talking about democracy and the role of America in the world' on one of their first dates. It's a shared passion that hasn't faded over time."
"Nuland and Kagan's argument for an assertive America might be unpopular in a country wary of military engagement in far-flung corners of the world," writes POLITICO, "but with the likes of Putin and Al Qaeda still on the hunt, 2014 has shaped up to be a test of the stay-at-home doctrine."
Kagan and Nuland are joined in The POLITICO 50 by such figures as Sens. Rand Paul, Ted Cruz, Elizabeth Warren, and Dianne Feinstein; Fed Chair Janet Yellen; economist Thomas Piketty; journalist Ta-Nehisi Coates; and Houston Mayor Annise Parker. 
Read the full entry.