In his recent article, "On the Performance of the U.S. Transportation System: Caution Ahead," Senior Fellow Cliff Winston asks, "What transportation policy changes could reduce travel delays, save taxpayer dollars, and increase the nation's productivity and growth?" In 2007, he notes, total spending on transportation in America amounted to 17 percent of GDP, as much spent on health care. And, Americans spend 175 billion hours in transit, which averages out to about 100 minutes per day for each and every American.
The figure below, which represents data in the paper, shows the vast increase in use of privately owned vehicles as a means of transportation to work. In 1960, 72.5 percent of individuals drove to work;  almost fifty years later that percentage has increased to over 90 percent while the percentages of people using the bus and subway/rail have declined. This volume demonstrates the enormous and increasing toll that is being placed on infrastructure in America.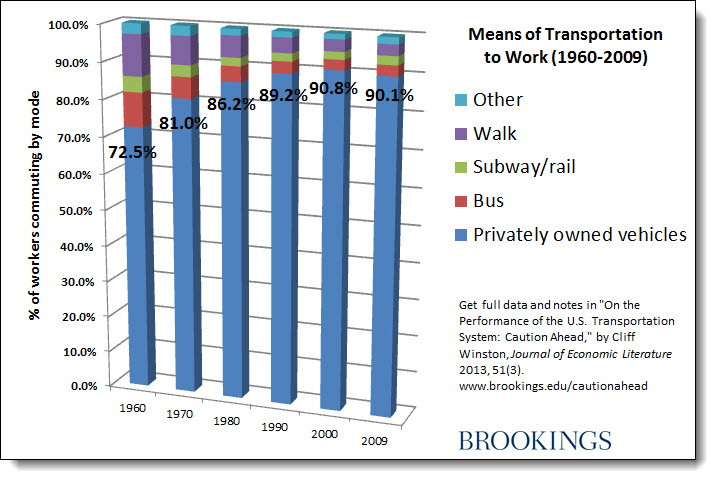 Winston suggests several specific policy changes that could generate cost savings, such as:
• Base user prices on actual costs;
• Improve federal investments in infrastructure;
• Streamline regulations so that highway projects do not distort wages and raise project prices;
• Open the skies and seas by liberalizing international airline routes and shipping lanes;
• Privatize a city bus service to see if it can be better operated than the public bus company and be more responsive to travelers' preferences; and
• Privatize highways so that the federal government and states could explore whether it leads to lower costs of highway services and better service to motorists.
Watch the video below to get an introduction to the research and the paper's main points:
Learn more in "On the Performance of the U.S. Transportation System: Caution Ahead."
Colleen Lineweaver contributed to this post.