A recent report from the National Telecommunications and Information Administration (NTIA) finds that more Americans are using mobile phones to access the Internet. The authors analyzed Census Bureau data from October 2012 that included more than 53,000 households. The number of Americans using mobile phones for a variety of activities from surfing the web to social networking continued to rise. Forty-two percent of people used their mobile phones to browse the web in 2012, compared with 33 percent who did in 2011.
Internet Access for the Poor
The gap in mobile phone use by family income shrank from 2011 to 2012. In 2011, 73 percent of people with family incomes of $25,000 or less reported using a cell phone. By 2012 that figure rose 4 points to 77 percent. Usage among people with incomes family incomes of $25,000 to $49,999 rose from 85 percent cell phone use in 2011 to 87 percent in 2012. In 2012, 96 percent of Americans with family incomes over $100,000 used a mobile phone. The socio economic gap is still large, but if current trends continue it will close in the next few years. The authors also ran a series of regressions on different mobile phone based uses including social networking and email. These models suggest that the increases in cell phone use by individuals with lower incomes were statistically significant.
Mobile Phone Use by Family Income, Percent of Person Age 25+, 2011-2012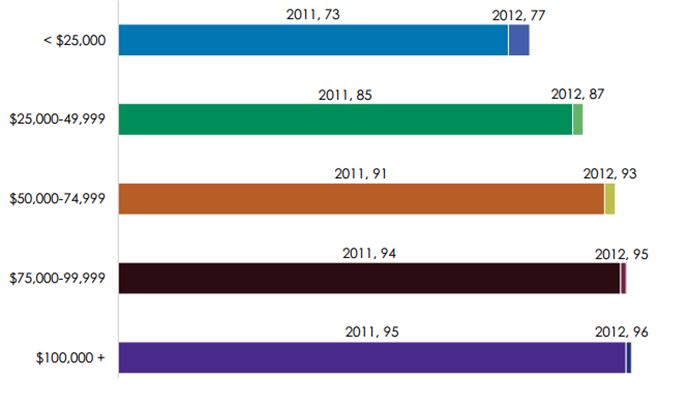 Source: NTIA
Mobile Phone Access by Minorities
Racial disparities in mobile phone usage have almost essentially disappeared. In 2012 it was reported that 88 percent of whites used mobile phones compare with 87 percent for Black and Hispanic people.  Rates of Hispanic cell phone usage increased 4 percent from 2011 to 2012. Asians were reported to have the highest rate of mobile phone use at 90 percent in 2012.
Mobile Phone Use by Race, Percent of Persons Age 25+, 2011-2012
Source: NTIA
The Value of Mobile Technology
In today's world, a lack of access to the Internet is a huge burden. Many people take for granted the benefits of the cornucopia of information and services the Internet offers. Mobile phone applications can support entrepreneurs in creating small businesses. Ensuring that all Americans have access to the Internet is critical to growing the innovation economy.
Matt Mariano contributed to this post.