Editor's note:
This analysis is part of The Leonard D. Schaeffer Initiative for Innovation in Health Policy, which is a partnership between the Center for Health Policy at Brookings and the USC Schaeffer Center for Health Policy & Economics. The Initiative aims to inform the national health care debate with rigorous, evidence-based analysis leading to practical recommendations using the collaborative strengths of USC and Brookings.
The event comes at a time when legislation on Medicare reform for chronic care may be imminent: over the last two years, a bipartisan working group on chronic care has formed and the Senate Finance Committee has held hearings and published policy options on how best to tackle the changing landscape of health care for America's elderly.
At the Schaeffer Initiative event, Senator Wyden called for Medicare reforms to support coordination, home health, benefit flexibility, and technology use that could improve care for chronically ill beneficiaries.
Senator Wyden also intimated that the bipartisan working group may release legislation early next year, which could include increased financial support for coordinating care for the sickest patients, greater use of technologies and financial support for appropriate home health care, greater flexibility for supplementary benefits in Medicare Advantage, and ways to support continuing innovation in Medicare.
Chronic conditions among Medicare beneficiaries
"The debate about American healthcare is way, way, way out of whack [particularly for] the striking lack of attention to what now dominates American health care: chronic illness." – Senator Ron Wyden
In Medicare today, health care for individuals with chronic conditions accounts for a staggering share of overall Medicare spending—a significant change from 1965 when Medicare started. In 2012, the Centers for Medicare and Medicaid Services (CMS) published a report detailing the prevalence and impact of chronic conditions (PDF) in Medicare.
The figure below details the disproportionate share of total Medicare spending for beneficiaries with chronic conditions—a share that increases as the number of chronic conditions increases. Beneficiaries with six or more chronic conditions represent only 14% of the Medicare Fee for Service beneficiary population but tally 46% of total Medicare spending.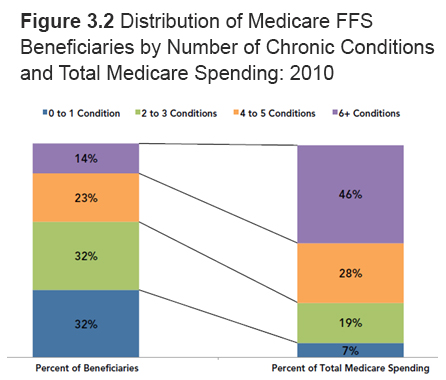 Source: CMS. Chronic Conditions Among Medicare Beneficiaries, Chartbook: 2012 Edition, page 24. Available online at https://www.cms.gov/research-statistics-data-and-systems/statistics-trends-and-reports/chronic-conditions/downloads/2012chartbook.pdf.
In fact, the expense of a few combinations of chronic diseases drives Medicare spending to an astonishing degree. The four costliest three-disease combinations include beneficiaries with stroke, chronic kidney disease, and either asthma, chronic obstructive pulmonary disease, depression, or heart failure.
Total per capita costs for beneficiaries with these combinations of disease exceed $60,000—seven times that of the average Medicare beneficiary.
Background on legislation
Senator Wyden proposed legislation in 2014 that would have established Better Care Plans (BPCs), a variation on Accountable Care Organizations, aimed at improving coordination of high cost, chronically ill Medicare beneficiaries. By requiring beneficiaries to actively enroll in such plans, they offered the potential to better engage patients, as multiple panelists at the event recommended.
Subsequently, in July 2014, the Senate Finance Committee held a hearing on how to address the unmet needs of patients with chronic illness, focusing on experiences of patients, caregivers, payers and health systems that have been involved in care for individuals with chronic disease. The following Finance Committee hearing on chronic care, in May 2015, focused on how to mobilize a plan, with prominent policy administrators and experts Patrick Conway and Mark Miller as witnesses.
Building on this, Senators Wyden and Hatch announced the launch of an on-going, bipartisan working group on improving chronic care for Medicare beneficiaries that released a policy options paper in December 2015 that outlined six key areas of reform.
Four areas of reform discussed at the event
Framed around "Updating the Medicare guarantee," Senator Wyden focused on four key areas of chronic care reform at the Schaeffer Initiative event:
Coordination.
The first of these four reform topics was coordination. While he credited the positive impact of free wellness visits, follow up coordination without added burdens on the patients is needed. Medicare recently added a fee code that newly reimburses physicians for the labor-intensive task of connecting all the dots associated with a chronically ill patient's care.
Targeted home visits. Second, Senator Wyden cited appropriate care in the home as a source of untapped Medicare savings and improved quality of life for seniors. He highlighted the Independence At Home (IAH) demonstration, touting early results indicating a savings of $3,000 per Medicare beneficiary.Additionally, policymakers have argued that Medicare's Accountable Care Organizations—physician groups accountable for quality and total cost of care for Medicare beneficiaries—are hampered by reimbursement constraints. Notable among the services that could be used more effectively is telemedicine. Another reform noted in the bipartisan working group policy options paper would waive telehealth reimbursement requirements for Accountable Care Organizations that had agreed to take on risk for financial losses.
Flexibility in Medicare Advantage. The third area of reform focused on increasing flexibility within the Medicare Advantage program so as to enable more personalized insurance plans for individuals with special needs as a result of their chronic conditions.As outlined in their December paper, one policy option to support flexibility in Medicare Advantage would be to allow Medicare Advantage plans to provide supplemental services that are related to the treatment or prevention of chronic disease. In their paper, they solicited comment on whether this flexibility should be granted to all Medicare Advantage plans, or a subset based on the plan's record of quality performance or other criteria.
Keeping up with innovation. Finally, Senator Wyden focused explicitly on the current inability of Medicare to keep up with advancements in science, like telemedicine and new drugs. While these exist, many are beyond the reach of Medicare beneficiaries because of current benefit design and other policies.Among the policies they were included in the policy options paper is the elimination of geographic limitations on use of telemedicine consults in cases of suspected stroke. Additionally, the paper suggested allowing Medicare Advantage plans to include some telehealth services in their bid amounts to Medicare.
Why the reforms matter
The main purpose for these reforms, as Senator Wyden strongly argued, is to improve the care for millions of elderly and disabled Americans with chronic conditions, and alleviate their suffering. Panelists were in agreement with that goal, but cautioned, however, not to expect huge savings from many of these reforms in the short run, as many improvements require investments in care managers and other infrastructure, but that a reasonable objective would be improvements in quality for similar or slightly lower costs.
The Schaeffer Initiative for Innovation in Health Policy, run jointly by Brookings and the USC Schaeffer Center, will also be releasing a series of policy analyses and recommendations later this year and in 2017, many of which can help inform this legislative process. Schaeffer Initiative work is being completed on Medicare Advantage and delivery system reform, prescription drug payment, and better coordinating post-acute care.