Like many participants in the Medicare Shared Savings ACO Program (MSSP), Family Health ACO is sailing in uncharted waters. All ACOs are facing significant challenges in better understanding patient utilization patterns, identifying high-risk patients, and implementing care coordination strategies.
Even more unique is that Family Health ACO ("Family Health") is composed entirely of federally qualified health centers (FQHCs).  FQHCs are community based organizations that provide critical primary and preventive care for millions of underserved and uninsured Americans, regardless of their ability to pay. Nationwide, there are over 1200 FQHCs serving the health care needs of the working poor, the unemployed, the undocumented, and anyone else in need of primary medical care. Family Health provides care to over 200,000 patients and spans nine counties in New York State; from the bustling streets of New York City to the rural landscapes of the Hudson Valley.
Partners in the Family Health ACO include Open Door Family Medical Centers ("Open Door"), The Institute for Family Health ("The Institute"), and Hudson River Health Care (HRHCare). Collectively the ACO includes 120 physicians, 60 advanced practice nurses and physician assistants, and nearly 100 dental providers. These organizations have a strong history of collaboration, including their first venture in 2008 to form the Hudson Information Technology for Community Health (HITCH). HITCH enabled the organizations to pool resources and work collaboratively on cancer screening and diabetes management outreach programs. The ACO partnership is helping to further strengthen the ties between these three community-based health care organizations and their communities.
The Foundation of Accountable Care: Continuous Quality Improvement and the Technology to Support It
Many believe that organizations caring mainly for the Medicaid and uninsured population may not be as well-positioned to make the ACO transition as compared to large hospitals, physician networks, or academic medical centers. However, FQHCs have a rich history and tradition of providing comprehensive primary care, preventive care, and public health outreach to the country's most underprivileged and complex patient populations. The members of Family Health ACO also stand out for their long-standing commitment to continuous quality improvement, including decades of experience with population health management, medical home, and electronic health records (EHRs).
Dr. Neil Calman, President and CEO of the Institute, emphasizes the value of being an early adopter of health IT, specifically electronic health records, to enhance their population health management capabilities. Under Dr. Calman's leadership, the Institute has had an EHR in place since 2002, and a strong health IT infrastructure has led to important work in disease outbreak surveillance with the NYC public health department, and the use of clinical decision support to help identify high-risk patients and improve quality of care. Family Health also benefits from Dr. Calman's leadership of national and state policy efforts, including his participation on the United States Health IT Policy Committee, and the New York eHealth Collaborative; a statewide health information exchange.
Breaking Ground: Forming an ACO
Combining these three large, multi-site, and expansive community health organizations into a single ACO only just began in January of 2014. According to the ACO's Executive Director, Helene Kopal, the group continues to face a number of challenges.
Care coordination across broad geographic and provider settings. Due to the ACO's extensive geography, patients receive care across a number of hospitals, skilled nursing facilities, and specialists, which makes care coordination a major challenge. According to Lindsay Farrell, Open Door's President and CEO, using patient navigators to improve care management is instrumental to coordinated care—a strategy that Open Door has used for over a decade. Building on this lesson, Family Health now employs over 171 staff to deliver care coordination services for patients inside and outside of the ACO, including psycho-social care managers, patient navigators, health coaches, and advocates. Patient navigators are embedded on care teams, and help coordinate care for highly complex patients, including scheduling appointments, arranging home-based services or transportation, providing medication reminders, and ensuring that no patients ' fall through the cracks.'
Merging data and combining EHR products.  When entering into this partnership all three organizations needed to bring their information systems and data with them, however the lack of EHR interoperability has not allowed for aggregation of population health data. Later this month, Family Health will receive its first batch of CMS claims data. As the ACO does not have an in-house analytics team, the ACO leadership board has been looking at products from various vendors that will enable them to upload their CMS claims data, interface with the EHRs, and then provide sophisticated population health analyses for clinicians and care managers.
Adapting to the unique challenges of patient population. To date, Family Health has only been able to see preliminary and summary patient demographics and utilization data. An initial look at the attributed patients showed that 42% of their patients were disabled – twice the national average for all Medicare beneficiaries. This unique patient population may limit Family Health's ability to easily replicate other ACO models, but has encouraged Family Health to leverage their experience with proactive patient outreach, community health workers, and team-based care.
Rectifying patient attribution and claims issues. Family Health is expected to have nearly 7,000 fee-for-service Medicare beneficiaries across the three organizations attributed to the ACO, but only received a list of 4,600 patients. While they have requested clarification from CMS, they suspect the discrepancy may be due to coding issues specific to FQHCs. They also noticed that Medicare did not pick up all of the providers identified during the application process. Both issues are expected to be resolved next year. Of course, the reason these numbers matter is that fewer attributed beneficiaries means less potential shared savings at the end of each year.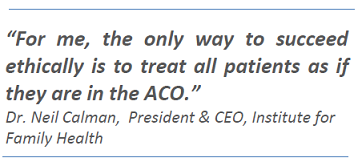 Ensuring equal treatment for all patients. Dr. Calman notes that the MSSP's financing model may motivate contradictory provider behaviors when delivering care for patients in the ACO, compared to non-ACO patients. For example, a value-based ACO model may properly encourage longer clinic visits, care coordination services, or other high-touch care. However, providers caring for non-ACO patients are limited to the volume-based incentives of fee-for-service, including short visits within the limits of traditional, billable services. However, Dr. Calman acknowledges that senior leadership in any health care organization should strive to provide the best possible care to the most vulnerable patients regardless of financial mechanisms in place.
While the ACO board members would of course love to achieve shared savings through their Medicare ACO, they won't be disappointed if they fail to reduce costs enough to receive a payout at the end of the year. They feel that the era of fee-for-service medicine is coming to an end, and MSSP offers them a chance to experiment with new practice paradigms. According to Dr. Calman, "We are using this as an opportunity to bring our three organizations together and learn best practices." Their investment in building this ACO will contribute to a promising future for all three organizations and the hundreds of thousands of patients that receive care every year.