"Pre-baccalaureate healthcare workers make up a large share of the healthcare workforce and should be seen as an asset in providing high-quality, cost-effective healthcare," write Martha Ross, Nicole Prchal Svajlenka, and Jane Williams in their new report detailing the size, characteristics, and growth of health care occupations employing large shares of workers with an associate's degree or less. They continue: "The training and skills of health care workers in supportive and assistive roles are central yet often overlooked in generating quality care and patient satisfaction."
Pre-baccalaureate workers account for 57 percent of the total health care workforce across the nation's 100 largest metropolitan areas. The vast majority of these workers (85 percent) are employed in 10 occupations, including nursing, psychiatric and home health aides, registered nurses, personal care aides, medical assistants, and licensed practical nurses. The number of jobs in these 10 occupations held by workers with an associate's degree or less increased by 46 percent since 2000, faster than the growth rate among health care jobs held by workers with a bachelor's degree or above (38 percent), and substantially faster the growth rate among jobs across all occupations held by pre-baccalaureate workers (3 percent).
This growing segment of the health care field provides entry points into the labor market for workers with lower levels of education, and in some cases can provide career ladder opportunities, though earnings largely track education. Pre-baccalaureate RNs and diagnostic technologists and technicians (such as sonographers and MRI techs) typically have an associate's degree, and have the highest median annual earnings for full-time, year-round workers, at $60,000 and $52,000 respectively. By contrast, about half of personal care aides and nursing, psychiatric, and home care aides have a high school diploma or less, and post median annual earnings of $21,000 and $25,000, respectively.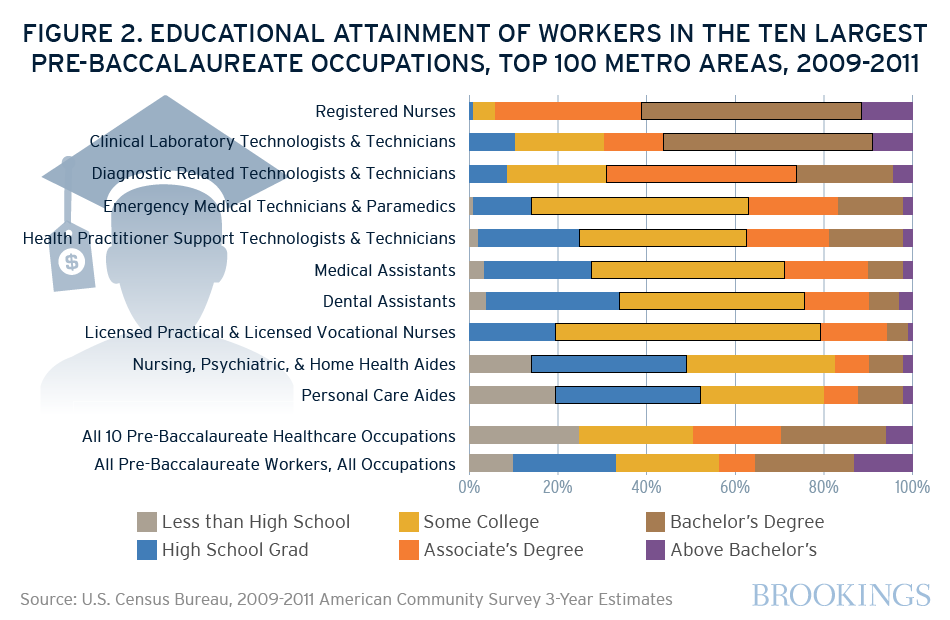 In fact, median earnings in some occupations are low enough to place substantial shares of workers in the working poor category, with household earnings below 200 percent of the federal poverty line. Fifty-one percent of personal care aides, 41 percent of nursing aides, and 29 percent of medical assistants fall into this category.
Pre-baccalaureate health care workers in the 10 highlighted occupations are racially and ethnically diverse, with large shares of blacks, Latinos, and Asians. They are thus positioned to help provide culturally competent care, an increasingly important value to health care institutions.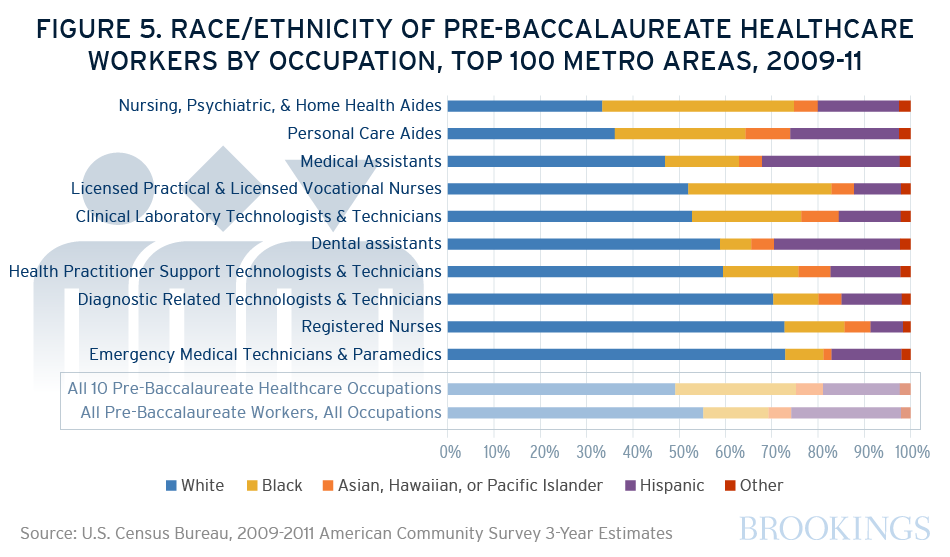 The authors write, "It is a dynamic moment for the health care industry, which is experiencing multiple pressures for change: expanded access, an aging population, technological advancements, cost-reduction imperatives, and most importantly, a call for improved health outcomes. … This creates an opportunity to upgrade the skills and increase the responsibilities of pre-baccalaureate workers to improve both the nature of the jobs and the performance of the health care system."
They conclude that educational institutions and health care employers need to work together more closely to tailor curriculum and programs "to meet the changing practices of health care delivery, to ensure that every member of the health care team contributes to the fullest extent of his or her training and capabilities."
---

Download and read the complete study here.

---
Elina Saxena contributed to this post.