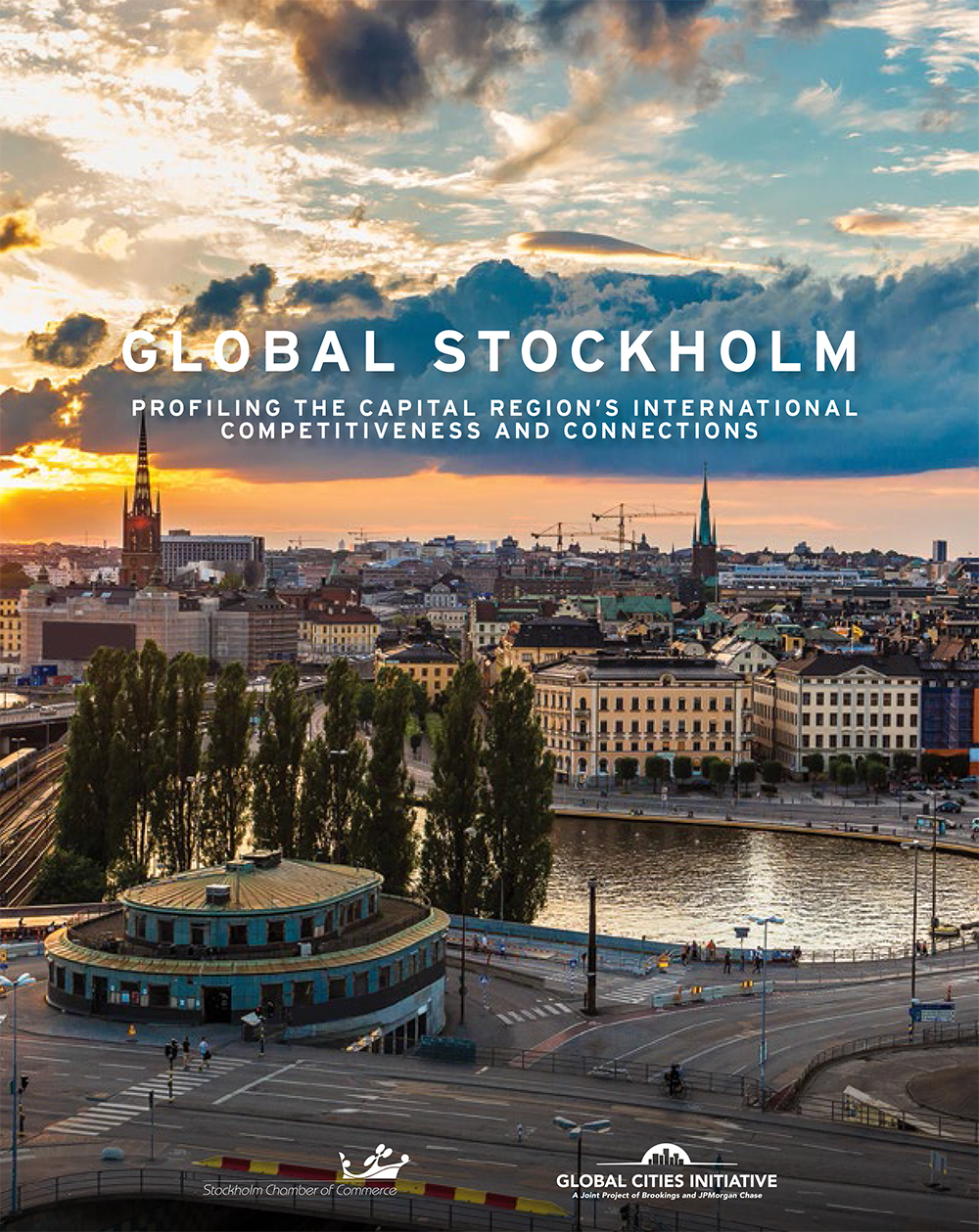 The Stockholm Capital Region operates from a position of global strength. The region's focus on core economic assets—an educated and advanced workforce, highly innovative multinational companies and universities, and modern infrastructure—has positioned it as one of the world's most productive metropolitan economies. Yet Stockholm's enviable position is not guaranteed, especially as globalization, technological change, and demographic forces reset the international landscape. 
This report, developed as part of the Global Cities Initiative, a joint project of Brookings and JPMorgan Chase, provides a framework for the Stockholm Capital Region to better understand its competitive position in the global economy, offering information and insights to inform regional leaders working to sustain the region's prosperity. Its key findings are:
The Stockholm Capital Region is a wealthy and productive economy that has generated rising living standards for the majority of its population. The Stockholm Capital Region, which includes Stockholm and Uppsala counties and 2.5 million residents, accounts for just over one-quarter of Sweden's population and generates over 30 percent of national economic output. On the core metrics of economic health, the region has performed quite well. Compared to Sweden and eight advanced regional economies in Europe and the United States, the Stockholm Capital Region outperformed on employment and output growth since 2000. These gains have outpaced population and labor force growth, indicating that the region's high labor productivity is translating to rising living standards. That these income gains are more evenly distributed across Stockholm's residents than in global peers indicates that the region is not only growing, but that a wide swath of its population is benefiting. In a composite economic performance index, the capital region placed third among peers.
The Stockholm Capital Region is well-positioned to take advantage of changing market, technology, and demographic trends, but to do so it must focus on the core drivers and enablers of competitiveness. A competitive region is one in which firms can compete successfully in the global economy while supporting high and rising living standards for local households. Globally competitive traded sectors, innovation ecosystems, and skilled labor are the key drivers of overall productivity, employment creation, and income growth. These drivers are supported by enablers: well-connected, spatially efficient infrastructure and a reliable governance structure and business environment. The Stockholm Capital Region boasts notable strengths and significant opportunities to better deploy these five factors to increase its global competitiveness.
1. Trade
The Stockholm Capital Region's tradable sector, anchored by its advantages in technology-intensive industries, is an important growth driver, but is limited by the low participation of small and mid-sized firms in trade. The traded sector accounts for 34 percent and 46 percent of local jobs and output, respectively. Reflecting the region's role as a major trading center, Stockholm accounted for 28.8 percent of Sweden's exports, 42.5 percent of imports, and 35.6 percent of total national goods trade. Three advanced manufacturing industries—electronics and equipment, chemicals, and transportation equipment—generated over half of regional goods exports. But the largest export category was refined petroleum products, a dependence that declining commodity prices could threaten. 
All of these major export sectors tend to be dominated by large firms. Small and mid-sized companies account for 95 percent of Stockholm's firm base but only 26 percent of exports, suggesting the export pipeline could be expanded. FDI inflows affirm the Capital Region's services strengths in communications, information technology, and finance. In a composite trade index, the capital region placed fifth among peers.
2. Innovation
Across several dimensions, the Stockholm Capital Region's innovation assets are strong, but it can take further steps to boost the innovative capacity of its smaller
firms. The region's innovation ecosystem—its collection of technical talent, firms, universities, research institutes, and industry intermediaries—outperforms metropolitan peers on metrics of commercial inventions and university-industry scientific collaborations.
That only five companies account for 53 percent of patents indicates, however, that innovative activities need to be extended to smaller firms. Venture capital investment provides an avenue to boost small-firm innovation, and Stockholm has attracted $2.5 billion since 2005, a sum that places it in the middle of its peer group. In a composite innovation index, the capital region placed fourth among peers.
3. Talent 
The region's workforce is among the most educated in the world, but demographic shifts suggest looming talent shortages. The Stockholm Capital Region benefits from an incredibly well-educated labor pool. Of the 15 and older population, 42 percent have obtained at least a post-secondary education, second highest among peer metro areas. Yet as the region ages, future workforce shortages loom, threatening the competitiveness of talent-driven industries. Foreign migration could help address this coming shortfall if these new entrants are successfully, integrated, educated, and employed. In a composite talent index, the capital region placed fifth among peers.
4. Infrastructure
The Stockholm Capital Region's global infrastructure connections—including freight, aviation, and broadband systems—are world-class, but insufficient housing supply is a challenge. Firms and workers benefit from some of the best external infrastructure connectivity in the world. Sweden's efficient freight and logistics systems offer cost-effective trade routes for local firms. Aviation passenger flows in the Capital Region totaled 30 million in 2014, and have increased at the second fastest clip among global peers since 2004. Broadband speeds are among the world's fastest. 
Yet, the region's housing and land use regime could be improved. The built environment is not keeping pace with the significant demand among households to live in Stockholm, raising housing prices and limiting labor mobility. Rent reforms and denser housing development can help ease demand pressures. In a composite infrastructure index, the capital region placed fourth among peers.
5. Governance 
The region's policy and regulatory environment is quite conducive to business success. Regional governance is strong in the Stockholm Capital Region. While not to the same degree as global peer cities, local governments have fiscal autonomy. Outside of government, there is an emerging network of private and civic institutions working with their public sector colleagues to position the Stockholm Capital Region globally. The policy environment is quite conducive to business, with taxes and the legal and regulatory environment around credit being the major issues for Stockholm firms.
The Stockholm Capital Region has considerable competitive strengths. To better its future, the region can bolster its position by bringing more firms into the export pipeline, expanding its innovation ecosystem to include more small and mid-sized firms, educating and integrating immigrants into the workforce, and addressing the dysfunctional housing market. By taking purposeful action now, Stockholm's public, private, and civic institutions can sustain the region's competitiveness for generations to come.