Article
Five "Gs": Lessons From World Trade for Governing Global Climate
ABSTRACT:
In taking the first steps toward a global climate regime, leading nations can learn from the experience of how the global trading regime built confidence in a self-regulating system. The GATT/WTO system built on a small group of states who, through a general agreement, were able to gear up domestic action over a generation. The advantages of this approach are that it does not pose a direct challenge to national sovereignty.
Instead, it coordinates the work of states in a way that respects a diversity of local governance, and has a greater chance of getting buy-in from the key players. The challenges of such an approach are that it does not guarantee fast domestic action, that many smaller states will feel left out of the process, and that the transition into the system for many of these states may be difficult. Lastly, as with the trade regime, it must overcome the biggest challenge for global governance in today's world: how to graduate nations when they emerge from being developing nations into industrialized ones.
Author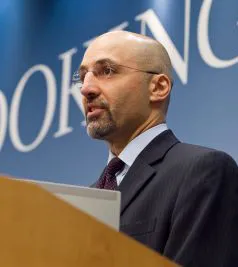 Ironically, the precise strength of the U.S. energy sector—that it is driven by the market and not by a government—also means that it is not a stick to beat people with.