Editor's note:
The following brief is part of Brookings Big Ideas for America—an institution-wide initiative in which Brookings scholars have identified the biggest issues facing the country and provide ideas for how to address them. (Updated January 24, 2017)
A major foreign policy challenge that will confront the Trump administration from its start is Ukraine and its conflict with Russia, which has killed nearly 10,000 Ukrainian and Russian combatants and civilians. A settlement of the conflict in Ukraine will likely be a prerequisite for any restoration of normalcy in U.S.-Russian relations.
The February 2015 Minsk II settlement that was to end the fighting in eastern Ukraine's Donbas region has yet to be implemented. There is little sign that Moscow wants a settlement, apparently preferring a "simmering" rather than "frozen" conflict, where it can turn the heat up or down to pressure Kyiv, and prevent the country from allying with the West by associating with the European Union (EU) and, the Kremlin fears, ultimately by joining NATO.
U.S. policy has focused on three fronts: assisting Ukraine; supporting the German/French-led effort to reach a negotiated settlement for the Donbas war; and maintaining pressure on the Kremlin, including by working with the EU to uphold the sanctions regime imposed on Russia after Moscow's March 2014 illegal annexation of Crimea and the subsequent violence in Ukraine's eastern region. Kyiv has no leverage to change Crimea's status and has put the issue on the back burner. The diplomatic focus is on Donbas and the Minsk agreement.
In 2017, sustaining the diplomatic momentum around Minsk II will become especially difficult. In Ukraine, President Petro Poroshenko's popularity is eroding. The country remains dependent on Western loans and assistance, and thus on the (already overstretched) goodwill of Western governments. The ongoing conflict distracts the Ukrainian government from much-needed domestic reforms, including tackling the culture of corruption that permeates Ukraine's politics and economics. In Europe, key constituencies have pushed to end EU sanctions that impede trade and business relations with Russia, although Germany has thus far managed to maintain a unified EU stance.
Europeans—on both the EU and member-state levels—are critical actors in the Ukraine-Russia crisis. Washington has closely coordinated with Brussels and individual member states on policy toward Ukraine over the past several years. The EU supported International Monetary Fund credits for Ukraine and has provided additional financial assistance to Kyiv alongside the United States. EU sanctions on Russia, while not identical to those imposed by the United States, have certainly been tougher than Moscow anticipated. The EU adopted more severe sanctions after separatist forces used a Russian-provided missile to shoot down Malaysian Airlines Flight 17, and in response to Moscow's duplicitous denials of separatist involvement. These denials have continued despite the publication in September 2016 of a detailed report by a Dutch-led investigative team, based on a painstaking two-year review of all available evidence.
The European political cycle will be intense in 2017. The French and German leaders face general elections, as do their counterparts in Italy, the Netherlands, and the Czech Republic. Anti-EU parties have secured seats in European national assemblies and the EU Parliament, propelled by a popular backlash against the wave of refugees and migrants seeking entry. Russian president Vladimir Putin has stalled on Russia's compliance with the Minsk II agreement, waiting to see if these developments will weaken Western resolve and allow Moscow a freer hand in Ukraine.
The Trump administration should stick to the current policy course at the outset, but with an eye to making adjustments as the situation on the ground in Ukraine or as policy in Moscow changes. The U.S. should:
Insist that Kyiv accelerate reform efforts and, if it does, work with Europe to offer greater assistance;
Continue current military aid to Ukraine and consider provision of defensive arms, depending on circumstances on the ground;
Maintain pressure on Moscow to comply with Minsk II, while signaling that Russian implementation of Minsk II would lead to better relations with the West;
Be ready to enter the negotiating process if and when a real prospect emerges for a solution to the Donbas conflict;
Avoid displacing Germany and France in the negotiations and make sure that Ukraine is present and represented in any supplemental diplomatic frameworks; and
Continue the policy of nonrecognition of Crimea's illegal annexation by Russia.
Sequencing the security and political provisions of Minsk II will remain the heaviest lift in the negotiations in 2017. Russia provides leadership, weapons, funding, and, in some cases, regular units of the Russian army to support the separatists. It has shown no sign that it wants the separatists to fulfill their Minsk II obligations. Moscow prefers to use the conflict to destabilize Ukraine. The Ukrainian government argues that it should not be expected to implement political elements of Minsk II until Russia and the separatists implement the security provisions for a cease-fire and withdrawal of heavy weapons from the line of contact. If the security provisions are implemented, however, the Ukrainian government does not have sufficient parliamentary support to pass a constitutional amendment devolving governmental authorities to the separatist Donbas entities, in line with Minsk II. In sum, the process has little prospect of success unless there is a major change in Kremlin policy and an improvement in Kyiv's political capacity.
In light of the impasse, some in Ukraine and the United States have recommended abandoning the Minsk process. That would be unwise. There is no obvious diplomatic or political instrument to replace it. A precipitous withdrawal from Minsk could leave Ukraine in a one-on-one face-off with Russia. German chancellor Angela Merkel and French president François Hollande could choose not to reengage in a new set of negotiations in a critical domestic election year for them; and the United States would not be able to fill the diplomatic vacuum given the separate demands on Washington to find a deal with Russia on Syria. There is no "grand bargain" to be had with Russia in which the future of Ukraine is traded for other strategic goals in the Middle East. The conflict has to be dealt with on its own terms, in the context of its own complexities.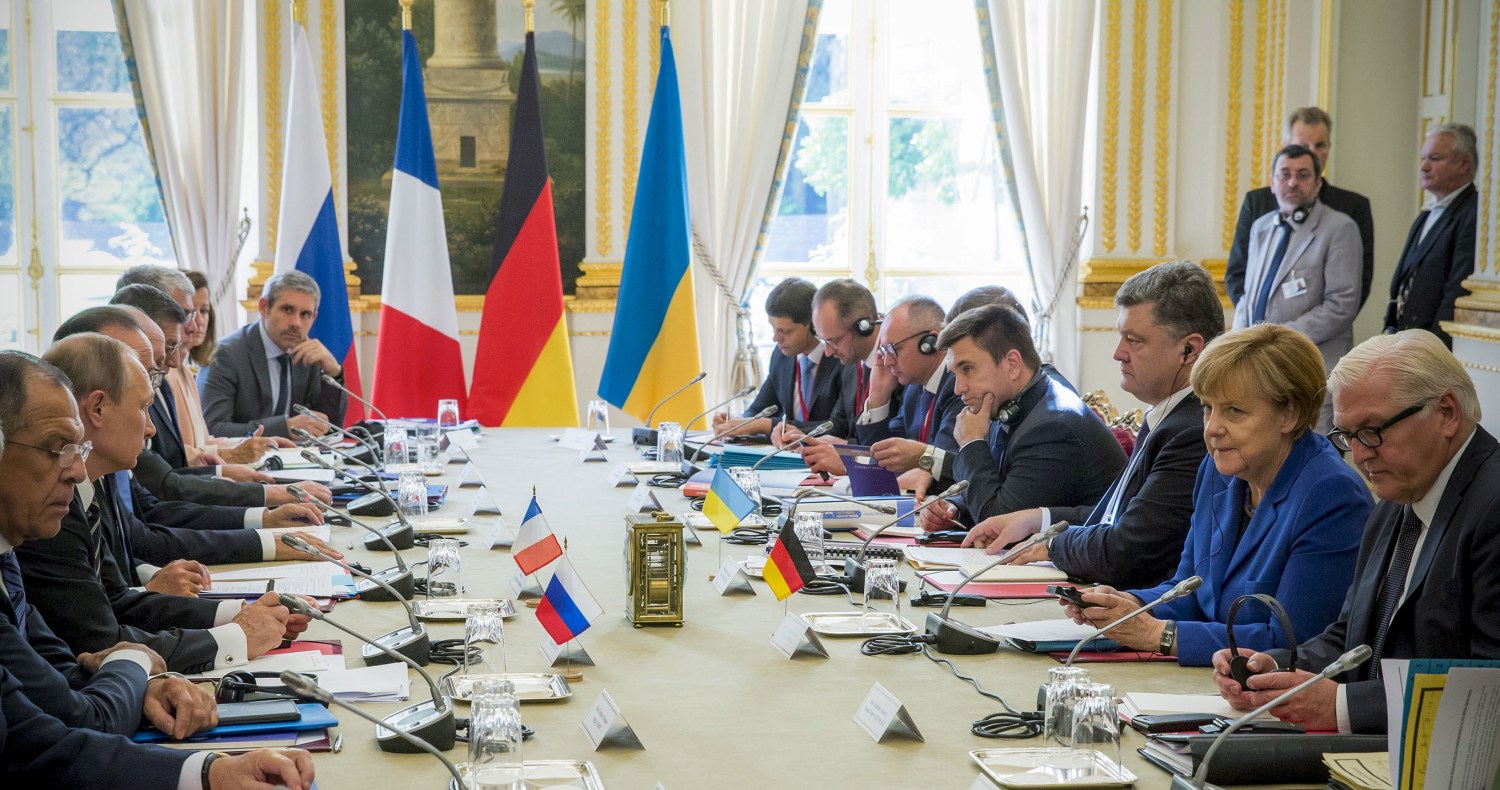 Members of delegations, led by French President Francois Hollande, German Chancellor Angela Merkel, Russian President Vladimir Putin and Ukrainian President Petro Poroshenko, meet in Paris, France, October 2, 2015. France hosts a meeting with leaders of Russia, Germany and Ukraine in Paris for talks about Ukraine which were likely to be overshadowed by the conflict in Syria. REUTERS/Ukrainian Presidential Press Service/Mikhailo Palinchak/Pool ATTENTION EDITORS - THIS PICTURE WAS PROVIDED BY A THIRD PARTY. REUTERS IS UNABLE TO INDEPENDENTLY VERIFY THE AUTHENTICITY, CONTENT, LOCATION OR DATE OF THIS IMAGE. FOR EDITORIAL USE ONLY. NOT FOR SALE FOR MARKETING OR ADVERTISING CAMPAIGNS. THIS PICTURE IS DISTRIBUTED EXACTLY AS RECEIVED BY REUTERS, AS A SERVICE TO CLIENTS. - RTS2R2L
When Minsk II was concluded in February 2015, the first iteration of a negotiated settlement, Minsk I, had irrevocably frayed. A major debate about the provision of lethal weapons to Ukraine was under way in Washington, with the intent of helping Kyiv to establish a better balance of forces on the Donbas battlefield and deter further separatist/Russian attacks. The Kremlin wanted to head off the prospect of the United States unilaterally arming the Ukrainian military. Putin, therefore, preemptively moved to rupture this debate by switching to the diplomatic track. He negotiated a new Minsk agreement with Germany and France that put considerable emphasis on political concessions from Ukraine in addition to concluding another cease-fire. Moscow's initiative was greatly facilitated by the fact that Germany opposed arming Ukraine for fear of further escalating the conflict with Russia.
Minsk II—and German insistence that the agreement must be fully implemented before there can be sanctions relief for Moscow—is now a major impediment to Russian interests. Western sanctions have contributed to the contraction of the Russian economy over the past two years at a time of low oil prices. They have impinged on the Russian government's and private sector's ability to borrow money on international financial markets and blocked new foreign investment in manufacturing, banking, and services. Although the Russian government has taken measures to adjust, Moscow remains concerned that continued sanctions will lead to a long-term economic stagnation.
Keeping Ukraine in a state of perpetual conflict with its international borders under constant question is one way of ensuring that the West keeps Kyiv at arm's length.
Sanctions have not, however, deterred Russia from pursuing its goals in Ukraine. Since the annexation of Crimea, Moscow has made it clear that it considers Ukraine, as well as other former Soviet republics, as part of its sphere of influence. It demands explicit U.S., EU, and NATO acknowledgment that Ukraine and other countries in Eastern Europe and Eurasia are off limits for membership in Western economic, political, and security institutions—unless by some prior agreement, directly negotiated with Moscow. Russia thus wants to prevent Ukraine from implementing the terms of the association agreement and free trade agreement it signed and ratified with the EU in 2014—which precipitated the initial confrontation when Russian forces seized Crimea after the Maidan Revolution. Moscow also seeks to roll back the commitment that NATO made at the 2008 Bucharest Summit to grant Ukraine eventual membership. Keeping Ukraine in a state of perpetual conflict with its international borders under constant question is one way of ensuring that the West keeps Kyiv at arm's length.
Instead of pursuing the implementation of Minsk II, Moscow has focused on different ways to weaken support for the sanctions regime. These efforts have included Russian presidential visits to countries like Italy, Hungary, Greece, and Cyprus that are seen as potentially amenable to lifting sanctions; patching up relations with Turkey (which did not take part in the initial sanctions) and Japan (which was part of the sanctions as a member of the G-7 group, along with Canada); outreach to Western investors whose business has shrunk under sanctions; blatant efforts to sway popular sentiment in Europe against sanctions through Russian-sponsored television, radio, and press outlets and social media; and tactical support for anti-EU parties and their leaders, like the National Front in France, Alternative for Germany (AfD), and the United Kingdom Independence Party (UKIP). Moscow is working hard to shape a narrative among European politicians and populations that lays the blame for the conflict in the Donbas and the failure to implement Minsk II entirely on Kyiv, and to break EU and transatlantic unity on sanctions.
The German chancellor is the most influential European decisionmaker shaping policy toward Ukraine and Russia. Merkel sees Russian aggression against Ukraine as violating the principles of international law that underpin the European security order, including that states should not use military force to seize territory from their neighbors. Senior German officials routinely describe Russia as their number-one foreign policy challenge and publicly decry Moscow's media and public relations campaigns to influence Germany's domestic policy, as well as the Kremlin's outreach to political parties.
The United Kingdom's decision to leave the EU greatly complicates European and U.S. policy coordination. In conformity with the June 2016 "Brexit" referendum, the British government announced in early October that it intended to initiate the Article 50 process to leave the EU by the end of March 2017. The United Kingdom will thus remove itself from the center of EU policy debates, where British diplomacy played a critical role in hardening resolve on dealing with Russia (along with Denmark, Poland, Sweden, and the Baltic states) as well as on a range of other EU foreign and security issues. The United Kingdom alone accounts for 16 percent of EU GDP. It was the major recipient of foreign direct investment into the EU, primarily into the goods and services sector in the City of London—an area of considerable importance for Russia. Without the United Kingdom, the EU will have less economic clout with Moscow.
The impact of the Brexit negotiations, along with other internal EU matters such as the migration crisis and the ongoing vulnerability of the eurozone (whose weakest point now appears to be the Italian banking system), will dominate EU summit meetings. European leaders will have less time for serious discussion of EU foreign policy issues like Russia and Ukraine, as well as less time (and perhaps less incentive) to engage and coordinate with the United States.
European trade with Russia was roughly 10 times the size of trade between Russia and the United States. Sanctions, including the countersanctions that Moscow imposed on European countries in retribution, have had a greater impact on individual European economies like France, Germany, Greece, Hungary, and Italy than on the United States. While Hollande has worked closely with Merkel in steering the Minsk negotiation process, other French politicians have called for ending EU sanctions, which Brussels currently reviews and renews on a semiannual basis. In both the French and German elections, Hollande and Merkel face opponents who almost certainly would seek to adopt softer policies toward Russia and reduce support for Ukraine.
If Russian efforts succeed, and sanctions are lifted without any significant progress having been made in implementing the Minsk II security provisions, Western credibility will be undermined. The Kremlin will feel emboldened to act in a similar fashion elsewhere in the post-Soviet space. Even without further military interventions, there are a range of other troubling actions Russia could undertake: increased violations of European air and sea space; state-sponsored hacking of European politicians, political parties, and Kremlin critics during the 2017 election cycle; cyberattacks against institutions and critical infrastructure; and the encouragement of political violence by fringe groups in vulnerable states with disaffected minority groups, like the Baltic states. It will thus be important for the new U.S. administration to maintain parallel support for sanctions and the Minsk II process, in coordination with the EU, to make clear that Russian actions do have a cost. Additionally, the administration should push back against the Moscow narrative that Kyiv is solely at fault for Minsk's failed implementation.
Kyiv needs to do more on reform to sustain Western support.
Nonetheless, Washington should recognize that Kyiv needs to do more on reform to sustain Western support. Ukraine cannot afford the perception that the post-Maidan government, like its predecessors since the 2004 Orange Revolution, lacks the will and ability to genuinely transform. The Trump administration should press the Ukrainian government to accelerate anticorruption efforts. Kyiv's slowness to tackle this problem is sapping public confidence at home and abroad. This will entail making U.S. and EU assistance conditional on Ukrainian actions, and will require coordinated blunt talk from Washington and Brussels to push the Kyiv leadership to move forward on measures it has so far resisted. If Kyiv moves more quickly, the United States and the EU should consider additional financial and technical assistance.
In parallel, the United States should continue to provide Ukraine with military assistance. Current policy limits U.S. support for Ukraine to nonlethal assistance, including training for the Ukrainian armed forces. Any changes in this policy should be closely coordinated with Germany and other EU partners, given their previous strong opposition to providing lethal weaponry. Depending on the circumstances in Donbas and feedback from Berlin, Washington might wish to consider the provision of some defensive arms, such as man-portable antiarmor weapons.
The United States should also work within NATO to ensure full implementation of the decisions taken at the 2016 Warsaw Summit to enhance the alliance's military capabilities, particularly in the Baltic region. Assuring NATO's eastern allies will be an important element in boosting the confidence of European states to push back against Russian efforts to intimidate governments and populations through massive military exercises and nuclear saber-rattling. While it is not impossible that the conflict in Donbas might escalate or expand in 2017, the combination of U.S. and EU sanctions, NATO deployments to Poland and the Baltic states, and NATO's continued engagement with Ukraine has made it clear to the Kremlin that the costs of such a course could be prohibitive. In addition to continuing these policies, the United States and EU will also have to invest in Europe's political, economic, and societal resilience. Russia's interference in Western political and societal dynamics is far less attributable, much cheaper and easier for Moscow to carry out, and possibly much more damaging to U.S. and EU interests than all the military maneuvers.
It will be critical to keep Europe closely aligned with U.S. policy in 2017. Regular high-level consultations with Berlin and other EU member states will be necessary to sustain trans-Atlantic coordination. The United States has not directly participated in the Normandy format negotiations (among France, Germany, Ukraine, and Russia) that support the Minsk II process. However, if a prospect emerges for finding a settlement to the Donbas conflict that builds on this process, and direct U.S. participation would prove helpful, Washington should seek to enter the negotiations. In doing so, the United States should take care not to be seen to displace Germany or France in any way, or fall into a bilateral or multilateral negotiation format with Russia that is conducted over the heads of the Ukrainians or the (other) Europeans.
Finally, it is entirely possible that Russian policy regarding Ukraine and Donbas could evolve. U.S. policy should be prepared to evolve with it. Donbas is a sprawling territory with an impoverished population, destroyed infrastructure, and, by now, a deeply damaged economic base that will take years, if not decades, to restore. The Kremlin has shown zero interest in annexing the occupied region, which would entail costs far in excess of annexing Crimea. This suggests that, at some juncture, Moscow will be open to an accommodation with Kyiv.
The situation with Crimea is different. Russia has absorbed Crimea into its existing federal structures, annulled its autonomous status, and included the peninsula in its September parliamentary elections. It is hard to see how Kyiv can restore Ukrainian sovereignty there. The West cannot and should not accept Moscow's use of force to redraw borders. The United States and the EU should maintain a coordinated policy of not recognizing Crimea's illegal incorporation into Russia until such time as Crimea is returned to Ukraine, or until Kyiv voluntarily accepts the peninsula's changed status. This is a similar proposition to the U.S. and European nonrecognition of the status of the three Baltic states after Moscow forcibly incorporated them in the Soviet Union at the end of World War II, and the nonrecognition of occupied East Berlin in the same time frame. Like the policy of Baltic nonrecognition, this approach to Ukraine will require patience and persistence, until circumstances change, in order to succeed.