Joseph Parilla and Alan Berube, in a new report and interactive, "Metro North America: Metros as Hubs of Advanced Industries and Integrated Goods Trade," describe production and trade among North America's cities and metro areas, showing linkages between and among metro areas across the United States, Mexico and Canada. One of the pieces of the report focuses on how NAFTA—the North American Free Trade Agreement—has affected trade and investment within North America. This chart demonstrates the 2011 trade of the United States with its two North American neighbors.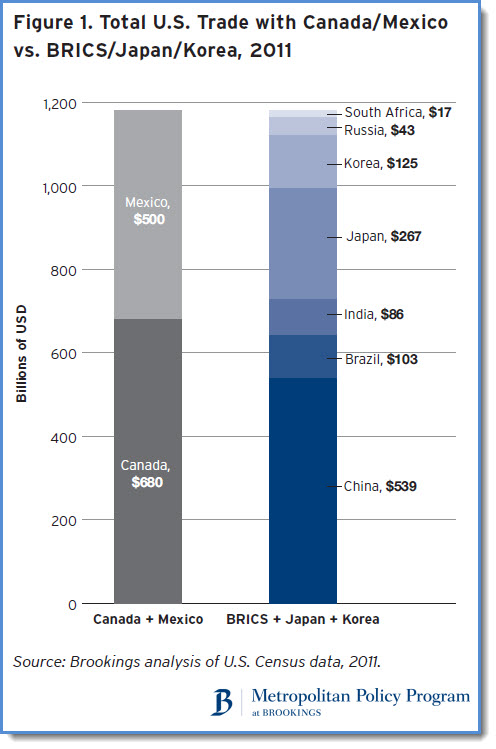 As the authors write in the report:
After decades of continued economic integration, the quantity and quality of trade within North America is truly distinct. In 2011, the latest year for which goods and services trade data are both available, the United States exchanged nearly $1.2 trillion worth of goods and services with Canada and Mexico, the country's first- and third-largest trading partners, respectively. To put this number in perspective, total U.S. trade with Japan, Korea, and the BRICS nations—Brazil, Russia, India, China, and South Africa—is also about $1.2 trillion.
Visit the interactive to learn more about Metro North America.