Article
Advisors, Czars and Councils: Organizing for Homeland Security
Nine days after September 11, President George W. Bush announced that the Federal government's effort to secure the American homeland against future terrorist attacks would be led by a new, White House-based Office of Homeland Security (OHS). He appointed his close friend, Pennsylvania Governor Tom Ridge, to head the office. While this step was widely welcomed, there has been a near-consensus among Washington veterans that Ridge lacks the leverage necessary for the job, even as a member of the White House staff with clear and direct access to the President. "I fear that as an advisor who lacks a statutory mandate, Senate confirmation, and budget authority, he will not be as effective as we need him to be," Senator Joseph Lieberman (D-CT) argued. "A homeland coordinator with only advisory authority is not enough. We need a robust executive agency to carry out the core functions of homeland defense."
Lieberman and others have accordingly introduced a number of proposals to rectify these imperfections, and Office of Management and Budget (OMB) Director Mitchell E. Daniels, Jr., recently told Congress that the administration was open to proposals for re-organization.
Almost every proposal thus far seeks to fix the problem by bringing widely dispersed authorities and agencies into a new central structure. But centralization alone cannot be the main answer to this formidable challenge. Currently, responsibility for preventing, protecting against, and responding to a terrorist incident is spread not only across the Executive Branch, but also across Federal, state and local authorities. Moreover, the private sector also has a critical role to play. It is simply not possible, nor is it desirable, to bring all the major homeland security functions under a single roof.
What is needed instead is leadership, coordination and mobilization of the responsible agencies and their leaders—at the Federal, state and local levels. That is precisely the task President Bush has handed Governor Ridge. Given the number of agencies, interests and people involved, it is a task of truly mammoth proportions. It requires strong, personal support from the President, more than has been evident in the first seven months of Ridge's tenure. Past experiences in parallel coordinating efforts—for national security and economic policy—provide valuable lessons on how Ridge might accomplish the task. Within such a coordinating context, some consolidation of functionally similar activities (for example, dealing with border security) makes sense, as does making Ridge's position statutory and subject to Senate confirmation. Enhancing his authority over budgetary matters would make sense, as well. But on their own, the structural reforms championed by many critics of the current arrangement will be of little help, and could even undercut Ridge's ability to influence the broad range of government activity that he can never directly control.
View full article.
Professor and director of the Program on International Security and Economic Policy at the School of Public Affairs, University of Maryland.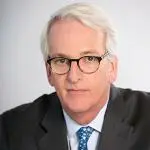 Former Brookings Expert
President -
Chicago Council on Global Affairs
Former U.S. Ambassador to NATO