Federalism courses through multiple public policy challenges today: Same-sex marriage. Marijuana legalization. Education policy. Reforming anti-poverty programs. State health care exchanges. Climate policy. Metropolitan innovation. And many more. The Brookings Institution Press has published numerous influential titles on American federalism, including the ones listed below. 
The Metropolitan Revolution
How Cities and Metros Are Fixing Our Broken Politics and Fragile Economy
Bruce Katz and Jennifer Bradley illustrate how states and metropolitan areas must rely—and have relied—on their own willpower and ingenuity to usher in a new economy and sustain regional resilience. (2013)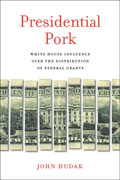 Presidential Pork

White House Influence over the Distribution of Federal Grants
John Hudak explains the delicate relationship between presidents' spending authority and the distribution of federal grants to woo over states and regions as a strategy of electoral design. (2014)
American Federalism in Practice
The Formulation and Implementation of Contemporary Health Policy
What happens when the federal government relies on states and localities to enforce significant and historic health care legislation? Brandeis Professor Michael Doonan tackles this question after serving in the Clinton White House and on the Massachusetts Health Policy Forum during the inception of "Romneycare." He explores the changing face of federalism when broad-sweeping national reforms demand both state flexibility and accountability. (2013)
The Global Debt Crisis
Haunting U.S. and European Federalism
In this volume edited by Paul Peterson and Daniel Nadler, contributors consider how fiscal federalism can resurrect itself as a viable form of accountable governance in a post-crisis era—an era that must embrace the political origins of economics to overcome global financial and economic turmoil. (2013)
Fiscal Federalism 2014
Making Decentralization Work
In this comprehensive OECD volume, the authors take up the division of economic power and responsibility between federal and state branches. They focus on the benefits and consequences of decentralization and sub-central fiscal rules on educational outcomes, fiscal policy sustainable, and tax competition. (2014)
Education Governance for the Twenty-First Century
Overcoming the Structural Barriers to School Reform
A diverse group of education experts explains how to realign education governance, particularly when education reform languishes in a fragmented system of separated powers. The authors detail what the United States can do to harmonize its system of education governance from the ground up. (2013)
Strife and Progress
Portfolio Strategies for Managing Urban Schools
Paul T. Hill, Christine Campbell and Betheny Gross analyzed the controversial portfolio strategy, which relies on the marriage of local public and private resources, that creates tailored school environments for heterogeneous student bodies in select cities. (2012)
Statehouse and Greenhouse
The Emerging Politics of American Climate Change Policy
When coherent climate policy legislation stalled in Washington, many states and regions took it upon themselves to address the problem. California under then-Governor Arnold Schwarzenegger was just one prominent example. In 2004's Statehouse and Greenhouse, Barry Rabe and his contributors documented and analyzed this trend. (2004)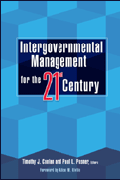 Intergovernmental Management for the 21st Century
America's complex system of multi-layered government faces new challenges as a result of changing economics, security concerns, technology and demographics. Major policy challenges are now overwhelmingly intergovernmental in nature, impacting multiple levels of public management. Intergovernmental Management for the 21st Century, edited by Timothy Conlan and Paul Posner and cosponsored by the National Academy of Public Administration, defined an agenda for improving the performance of the U.S. intergovernmental system. (2008)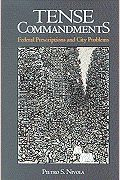 Tense Commandments
Federal Prescriptions and City Problems
Pietro S. Nivola considered the trend of brain drain in cities both large and small, and he looks at some of the underlying causes of this migratory flow—which has hit some urban and local domains particularly hard. With lagging federal aid to large cities, Nivola considered ways to reverse the inimical effects of federal-local disconnect and regulatory impasse. (2002)
From New Federalism to Devolution
Twenty-Five Years of Intergovernmental Reform
Why has federal reform been called into the spotlight? And how has federalism emerged as a changing force in intergovernmental reform from the days of Alexander Hamilton to Richard Nixon's "New Federalism"? Timothy Conlan examined the evolution of federalism—its politics and ideology—and its future. (1998)
Reviving the American Dream
The Economy, the States, and the Federal Government
In this provocative 1992 book, Alice Rivlin offered a straightforward, nontechnical look at the issues threatening the American dream and proposed a solution: restructure responsibilities between the federal and state government. (1992)
Federalism expert Paul Peterson took stock of the functional and legislative sides of federalism theory and advises pursuing economic policies in line with functional federalism theory. He charged the federal government with giving states and localities more responsibility over transportation, education, crime control and more. (1995)
The New Federalism
Intergovernmental Reform from Nixon to Reagan
Timothy Conlan's historical and analytical treatment of Presidents Nixon's and Reagan's approaches to federalism. (1988)
Course Adoption
As with all Brookings Press books, exam copies are available for professors wishing to consider a book for a course.