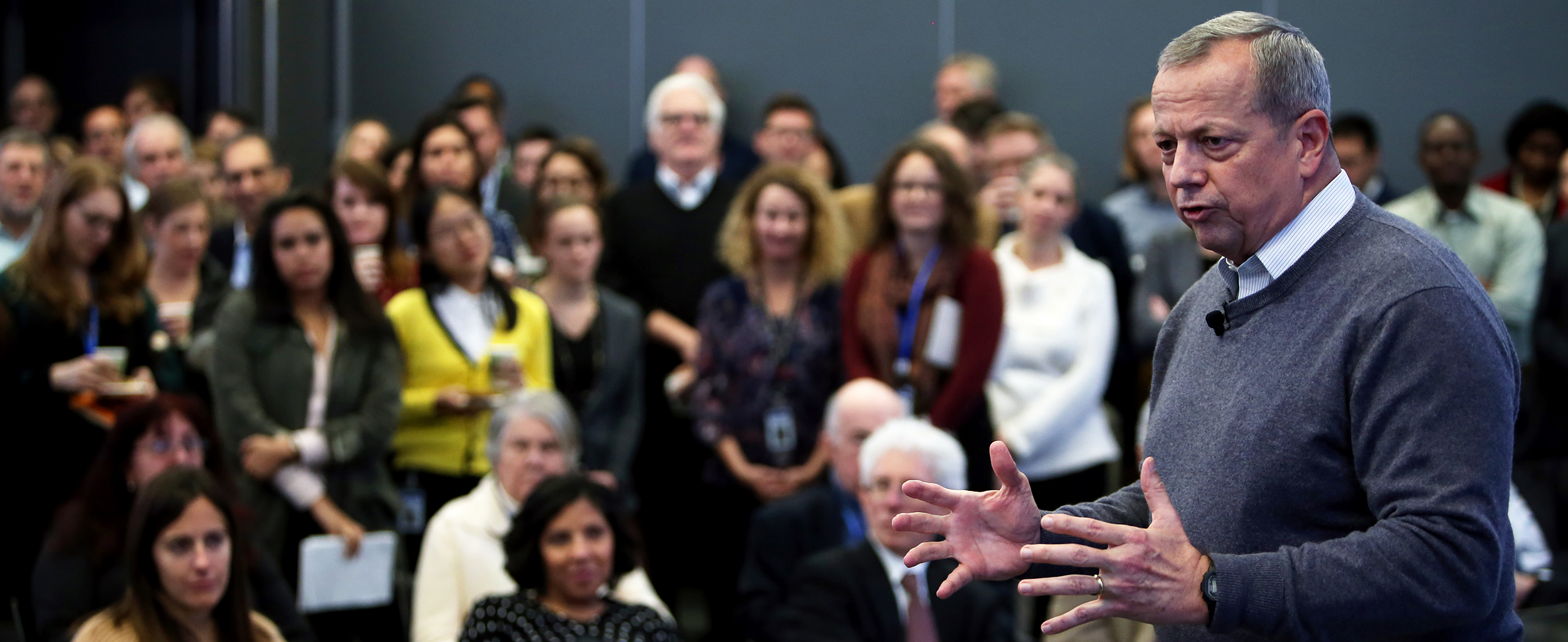 Inclusion and Diversity
PRESIDENT'S MESSAGE ON DIVERSITY
As an organization committed to the public good, I believe Brookings has a moral obligation to produce research and policy recommendations on issues of race, equity, justice, and inclusion. The advent of COVID-19 has provided yet another reminder of the many hard truths about the legacy of American slavery, and the systemic racism and inequity that permeates many facets of our society. Every day, Black and brown Americans lose a disproportionate number of lives and livelihoods. Our society is suffering and in pain, and the many injustices of this challenging moment compel us to take a stand.
For Brookings's part, we were proud this year to launch How We Rise, a virtual space that not only addresses issues of structural racism, but also promotes our most diverse voices from inside the institution and beyond. It complements our existing Race, Prosperity, and Inclusion Initiative and other efforts found throughout our research programs, which have invigorated our scholarship around Black America, and most importantly, helped to create the conditions necessary to ensure that Black lives matter everywhere. In addition, starting September 2020, I made the decision to formally name Race, Justice, and Equity an institutional priority, which marks Brookings's public commitment to equity and to making a tangible commitment to combat biased policies and practices that have perpetuated injustice.
At the same time, we recognize that in order to produce high-quality research that informs innovative, practical policy recommendations, we must strive for a workplace that represents diversity of experience, thought, and personal background. Increasing the diversity among our staff enhances the relevance and substance of our work. To that end, we have published our workplace and Board of Trustee demographics since 2018 with the aim of keeping ourselves accountable on our continued journey towards greater diversity, equity, and inclusion. Brookings strives to continuously offer an inclusive and welcoming workplace that values the experiences, ideas, and efforts of all contributors. This means ensuring that each individual is heard, appreciated, and empowered to fully participate in Brookings's mission. Furthering this commitment, we have also published a number of internal priorities aimed at hiring and supporting those from diverse backgrounds, many of which are discussed in detail below.
While we have so much more to do, I remain optimistic that through hard work, transparency, and accountability, real progress can be achieved over the long term. I hope you'll take a moment to read about the efforts that Brookings is undertaking to ensure the advancement of diversity, equity, and inclusion. The road ahead will be long, but together, we can lay the foundation for a stronger Brookings and a brighter, better world.
– John R. Allen
Workforce Demographics
Diversity is defined as all of the characteristics and attributes that make each one of us unique. Diversity has many dimensions, including, but not limited to, race, gender, physical ability, ethnicity, national origin, religion, veteran status, sexual orientation, gender identification, and age. Even more broadly, diversity includes work experience, family status, socio-economic class, and diversity of political thought. As a starting place, Brookings is capturing and reporting on race, ethnicity, and gender, which we gather as part of our affirmative action requirements.
Methodology
The source of this data is based on the affirmative action questionnaire completed by all Brookings employees. The categories for race and gender are determined by the federal government for workforce reporting.* The categories used for generation identification have been defined by Pew Research Center, and are as follows:
Generation Z: born 1997 to 2012
Millennials: born 1981 to 1996
Generation X: born 1965 to 1980
Baby Boomer: born 1946 to 1964
Silent Generation: born 1928 to 1945
As of July 1, 2020, our staff headcount was 422 employees in Washington, DC. This includes:
Our Leadership Team (13): President, Executive Vice President and Vice Presidents
Our Fellows/Senior Fellows (106): Brookings Resident Scholars
Our Research Support (73): Research Assistants, Research Associates and Research Analysts
Our Operational Teams (230): Business Unit and Research Program positions in Management, Operations, Communications, Development, Facilities, Finance, HR, Library, Legal, and Information Technology
This data does not include personnel in our overseas centers, nor does it include our nonresident scholars, as they are not employees. As our inclusion and diversity efforts evolve, we plan to capture and report on additional data.
*Brookings is required to report the race and gender for all employees. Thus, in compliance with federal EEO requirements, employees who opt out are visually identified. We intend to fine-tune our systems in the future to include those who opt out of identification in our workforce data.
The Data
Race/Ethnicity
1
Hawaiian/Pacific Islander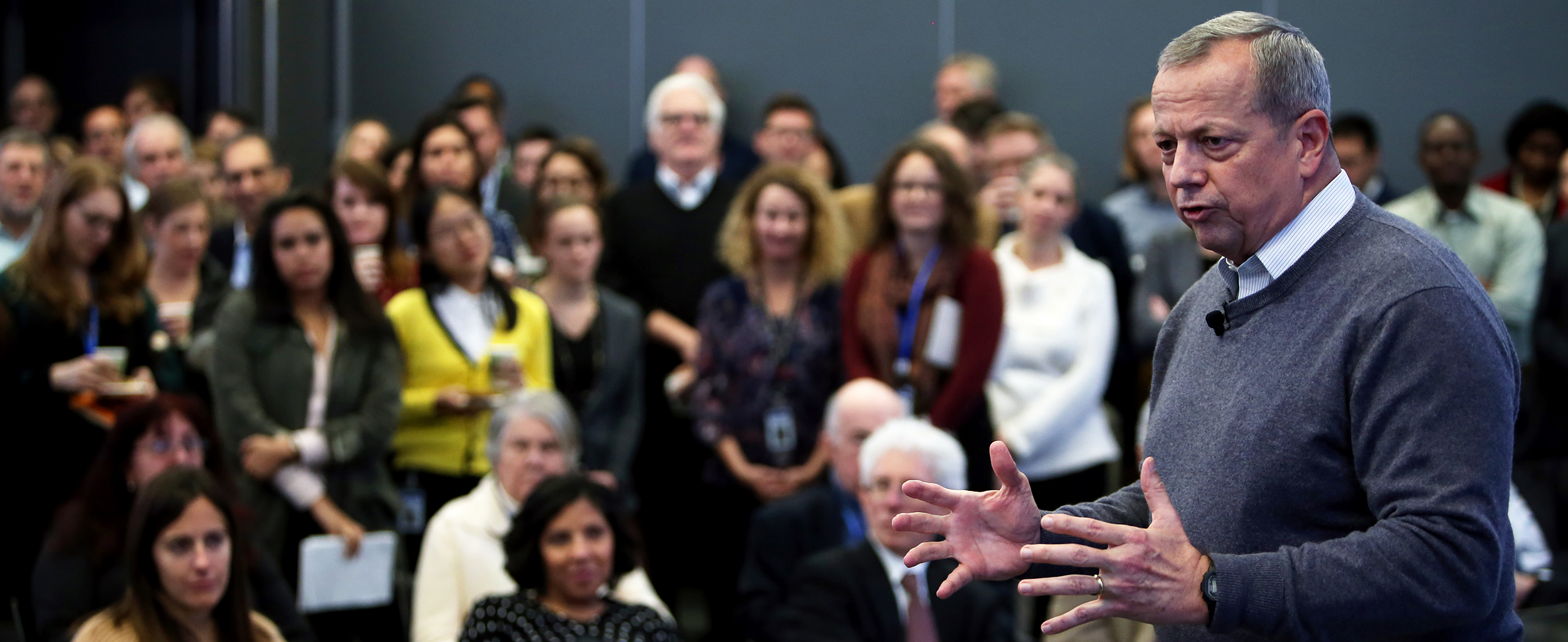 How We're Improving
Diversity in our workforce: Research tells us that diversifying the composition of our workforce can make our work more relevant, creative, and compelling and we are committed to making that happen. Building a diverse workforce is only one part of creating a truly inclusive community; our ongoing work also aims to ensure that each individual is heard, appreciated, and empowered to fully participate in the life of Brookings.
To lead this charge, the Brookings Inclusion and Diversity Committee was formed. The mission of the Committee is to advance the strategic priority of inclusion and diversity at Brookings through:
Promoting an ongoing process of cultural change;
Robust recruitment outreach to traditionally underrepresented communities;
Engaging formal and informal leaders throughout the Institution;
Challenging or changing practices and policies that inhibit inclusion and diversity; and
Working to ensure that the public face of Brookings is representative of the world in which we live and work.
Over the past year, we have worked to advance these goals and are committed to increasing our efforts in the coming months. Below, we outline recent activities and describe our planned investments for the fiscal year ending in June 2021.
Advancing inclusion and diversity in our public-facing work:
As of September 2020, Race, Justice, and Equity is one of Brookings's four Presidential Research Priorities. With an initial emphasis on structural racism, Brookings will make a tangible scholarly and fundraising commitment to invest in work in this area, including as part of our ongoing Race, Prosperity and Inclusion Initiative.
Earlier this year, Brookings launched a new blog, How We Rise, focused on policy solutions to upend structural racism and create a more equitable society for all.
Over the past year, Brookings scholars have published 150 new pieces of research and analysis on the Brookings web site examining issues related to race and public policy. Brookings has also hosted 14 events on these topics in the past year.
To commemorate the centenary of the 19th Amendment, the Institution launched 19A: The Brookings Gender Equality Series. Through essays, podcasts, and events, 19A analyzes where gender disparities still remain today and what policy reforms can move us toward a more equal global society.
Finding ways to encourage diverse conversations in public policy beyond our walls, such as our colleague Susan Hennessey's website Sourcelist, which helps connect and promote qualified, diverse technology policy experts.
Improve the gender and racial diversity of our invited speakers at Brookings events and work to eliminate all-male panels.
Identifying new venues to expand the reach of our public programming, such as the Fall 2019 lecture series at the University of the District of Columbia on issues of engagement, democracy, diversity, race, politics, and economic justice.
Following earlier updates to our writing style guide to use more inclusive and modern racial/ethnic terminology—in particular to capitalize Black in reference to the racial group—advocating publicly for wider, accelerated adoption of this change by major media outlets and publishing organizations. Many, including the standard bearer in the Associated Press' Stylebook, now capitalize Black as a form of respect for Black Americans.
Pipeline building:
Through the David M. Rubenstein Fellows Program, continue to recruit every two years a diverse, next-generation cohort of outstanding scholars to each of our research programs. Of the inaugural class, six are resident Brookings scholars, with three additional staff maintaining an affiliation with the institution. Our second class began the fellowship in fall 2019, and a third class will be recruited over the coming year.
Cultivating relationships with diverse colleges, fellowship programs, and associations, including those serving populations traditionally underrepresented in our workforce, to attract diverse applicant pools for research positions.
Influencing the pipeline of future employees by encouraging the pursuit of Ph.D.s and other advanced degrees in disciplines with the fewest number of women and people of color through high school and college information sessions and other outreach activities.
Expanding internship and mentorship opportunities to Washington D.C.-area high schools by continuing our successful partnership with the national youth development nonprofit Urban Alliance, whose focus is to provide economically disadvantaged young people with access to the exposure, opportunity, support, and training that prepares them for lifelong economic self-sufficiency.
Partnering with Urban Alliance, continuing existing efforts to engage approximately 100 local high school students for a day of career shadowing and mentoring through our annual Career Day program.
Continuing to strengthen our long-standing internship program to ensure accessibility to college students from underrepresented backgrounds, including establishing a set of strategic partnerships to provide summer internship opportunities in each of our research programs to students from schools that have not historically participated in the program.
Conducting a regular analysis of the recruitment and selection process to evaluate our effectiveness on ensuring an objective and equitable approach with the goal of identifying opportunities to increase diversity in our applicant pool and hiring decisions.
Supporting pipeline building efforts in our research programs, such as the collaboration between the Economic Studies program and the Sadie Collective, an organization for and by Black women in economics, data science, and related fields, to support the Collective's annual conference.
Inclusion of our staff and community:
Over the past year, each research program has developed a set of actionable, measurable goals for advancing diversity, equity, and inclusion. We are also planning for our business units to undergo a similar process.
Based on the findings of our second staff engagement survey, we are working at multiple levels across Brookings to take meaningful actions to strengthen engagement and inclusion for all employees.
Collaborating with staff to celebrate cultural heritage milestones, such as Black History Month, Women's History Month, Hispanic Heritage Month, LGBT Pride month, and Asian American and Pacific Islander Heritage Month.
Encouraging transparency and dialogue through staff roundtable discussions that focus on topics related to staff engagement, diversity, inclusion, and other relevant topical events.
Providing training opportunities on topics such as unconscious bias, managing bias in employee supervision and evaluation, microaggressions, and cross-generational work environments.
Providing opportunities for staff to learn about and reflect on developing anti-racist practices.
Educating staff on the impact of including preferred gender pronouns in email signatures and encouraging the adoption of this practice.
Formation of additional affinity groups.
Recognizing the impacts of the COVID pandemic and issues of systemic racial inequity and racial injustice on our community, we are providing various resources to support increased knowledge, work-life balance, flexibility, and wellness.
Highighting and integrating equity:
Revising the mission statement of our Inclusion and Diversity Committee to incorporate equity as an important component of our inclusion and diversity work.
Establishing a competency-based jobs framework to support high performance, professional development and greater consistency of roles and titles across Brookings.
Providing additional information to staff about our pay program and practices.
For more information, contact diversity@brookings.edu.