Report
Energy 2030: Backgrounder
Content from the Brookings Institution India Center is now archived. After seven years of an impactful partnership, as of September 11, 2020, Brookings India is now the Centre for Social and Economic Progress, an independent public policy institution based in India.
This backgrounder – prepared for the Petrotech 2014 CEO Conclave held in New Delhi, on December 17, 2013 – looks at the dynamics of energy demand and supply in 2030, the implications of geopolitical stress on energy trade, and provides a framework for a sustainable energy agenda in 2030.
Key Insights:
According to projections, renewables, hydroelectricity, and nuclear energy will play a more important role in 2030, particularly in the power sector. While the use of renewables will increase by over 430%, nuclear energy and hydroelectricity will expand by 54.5% and 48.5% respectively. Both OECD and non-OECD countries will witness a growth in unconventional energy, but the latter – led by China and India – will see the biggest increases.
Despite the growth in the supply of non-fossil energy, fossil fuels will continue to play the predominant role, supplying more than 78% of the total energy.  Coal, oil, and natural gas will continue to be the main sources of energy for industry, power, and transportation, only marginally displaced by renewables in the power sector.
North America will witness the greatest growth in both oil and natural gas, owing primarily to the application of a combination of horizontal drilling and hydraulic fracturing, for the production of shale oil and gas. Beyond the Americas, technically recoverable shale reserves have been found in other regions, – particularly China and Russia – but their economic and social recoverability still needs to be assessed.
The Asia-Pacific region – primarily due to the growth of India and China – will see a vast increase in energy consumption. While the supply deficits for oil and natural gas will continue to expand, the region will also witness a translation of its surplus of coal into a deficit, becoming a net importer of coal.
New discoveries of energy reserves combined with new technologies to extract energy more efficiently will lead to a dramatic shift in existing dependency on energy-dominant countries and regions (such as Russia and the Middle East).
Lower carbon-emission prospects of natural gas have begun to appeal to a larger number of countries, leading to a geographical shift of focus on energy resources and changing demand-supply dynamics.
There will be less reliance on OPEC, yet the Middle East will remain lowest cost producers as they move into developing their natural gas resources.
Developments will determine whether currently energy-dominant countries will maintain their positions of power, or whether new discoveries and shifting demand-supply dynamics will lead to a shift in political order.
There is an 'aspirational gap' between resource supply and demand from developing countries driven by more energy-intensive modes of living and production.
Industrialized countries bore historical responsibility for environmental problems such as climate change. However, it is the aspirants of the developing world that will bear the greatest burden of their own soaring energy consumption and economic growth.
It is imperative to adapt our energy mix to reduce carbon emissions, invest in environment-friendly sources, while simultaneously reducing the energy-intensity of our modes of production and living through efficient technology and substitution.
_______________________________________________________________________________
_______________________________________________________________________________
Senior Engagement Manager -
International Innovation Corps (IIC)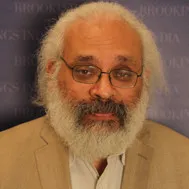 Former Brookings Expert -
Brookings India
Executive Director -
IMF