In 2020, Birmingham confronted an economic collapse of unprecedented scale, brought on by the COVID-19 pandemic. Given the enormous disruption to the economy and individual lives and livelihoods, the urge to get back to normal is understandably strong. Yet, the "normal" that preceded the pandemic wasn't cutting it. COVID-19 laid bare long-standing economic and social challenges that have prevented the region's economy from reaching its potential.
Fortunately, the pandemic has strengthened the community's resolve to mitigate the worst of the crisis and lay the foundation for the Birmingham economy's renewal. While peer cities have made significant steps toward such inclusive prosperity in recent years through sustained, multisector regional partnerships, the same can be done in Birmingham—but only if the city addresses its current challenges.
Adding to the imperative of addressing recent and historical disparities and economic inequities, Jefferson County is expected to cross an important demographic threshold in just over a decade, as more than 50% of its population will be people of color by 2034. In order to thrive, the economy will need to increasingly reflect this demographic reality, boosting opportunities for Black residents to find good jobs and access entrepreneurial opportunities and capital.
The new report, crafted over two years through engagement with dozens of local leaders and engaged citizens, makes the case for a multisector regional partnership to lift up the region's economic future, and prevent Birmingham from lapsing into a scattered, weak, business-as-usual recovery. One such effort, Prosper, is led by a group of civic, business, government, and community leaders, and aims to move the region toward economic transformation and inclusive prosperity.
---
Bolstering the case for Prosper's help to drive inclusive growth in the region, the report provides background analysis on several realities which hampered Birmingham's recovery from the Great Recession:
After the Great Recession, the Birmingham region didn't generate enough new business growth to create good jobs.
Birmingham is becoming more educated, but there is still unequal access to quality postsecondary education and training. Inequities in the labor market mean that a given level of education does not translate into the same economic outcomes for Black people and women as it does for white people and men.

Unequal access hits Black-majority neighborhoods hardest, as local jobs and entrepreneurship opportunities are a critical source of wealth, employment, and neighborhood stability.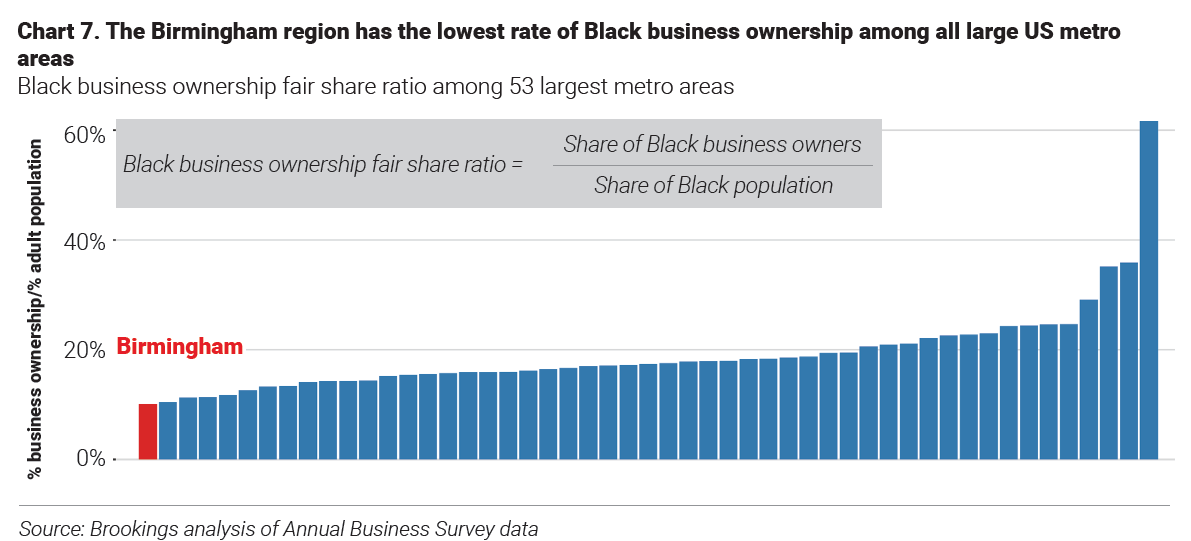 ---
To address these challenges, Prosper is not a program to replace good work underway nor a large operating organization. Rather, it is a new funding model and collaborative effort that will play three roles:
Assembling diverse leadership to establish and communicate the region's vision.

Applying focus with select regional priorities and initial initiatives.

Align and scale investment and track impact.
Brookings Metro—in coordination with dozens of local stakeholders—has worked with the Prosper board to identify four initiatives that will be the initial focus for the organization's financing plan, addressing job creation, job preparation, and job access. These four initiatives are one part of a broader set of regional priorities focusing on creating and growing more startups, helping displaced workers get back on their feet through in-demand training, connecting people without cars to jobs, and bridging the digital divide. These priorities can help guide regional recovery strategies in the wake of COVID-19 and coordinate public, private, and philanthropic investment.
Prosper's four initial initiatives:
Birmingham Promise initiative. Invest in youth college and career pathways through the Birmingham Promise scholarship and apprenticeship initiative.

Business advisory service initiative. An intensive, customized business advisory service that enhances technology adoption, productivity, innovation, and job creation in "missing middle" small businesses.

HealthTech initiative. New initiative to make Birmingham a center of health technology solutions through investments in entrepreneurship, talent, and community engagement.

Black-owned business acceleration initiative. Build and grow more businesses in the Black community by connecting Black entrepreneurs with the coaching, capital, and resources they need to thrive.
Birmingham has the potential to become a great economy, capable of competing and thriving globally. But it will only reach that potential if the community can align and invest around a set of shared priorities. Authors of the new report argue Birmingham should confront the challenges of growth and inequality through the sustained efforts of Prosper's multisector regional partnership, in order to realize an inclusive economy for all of its residents.