This second volume from the National Working Commission on Choice in K-12 Education examines the connections between school choice and the goals of equity and efficiency in education. The contributors—distinguished university professors, high school administrators, and scholars from research institutions around the country—assess the efficiency of the educational system, analyzing efforts to boost average achievement. Their discussion of equity focuses on the reduction of racial and religious segregation in education, as well as measures to ensure that "no child is left behind." The result is an authoritative and balanced look at how to maximize benefits while minimizing risks in the implementation of school choice. The National Working Commission on Choice in K-12 Education was established to explore how choice works and to examine how communities interested in the potential benefits of new school options could obtain them while avoiding choice's potential harms. In addition to the editors, commissioners include Paul T. Hill and Dan Goldhaber (University of Washington), David Ferrero (Bill and Melinda Gates Foundation), Brian P. Gill and Laura Hamilton (Rand), Jeffrey R. Henig (Teachers College, Columbia University), Frederick M. Hess (American Enterprise Institute), Stephen Macedo (Princeton University), Lawrence Rosenstock (High Tech High, San Diego), Charles Venegoni (Civitas Schools in Chicago), Janet Weiss (University of Michigan), and Patrick J. Wolf (Georgetown University).
Related Books
Vouchers and the Provision of Public Services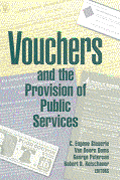 Education
Vouchers and the Provision of Public Services
Bridging the Achievement Gap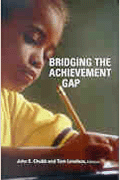 Education
Bridging the Achievement Gap
John E. Chubb, Tom Loveless
November 12, 2002
The Tracking Wars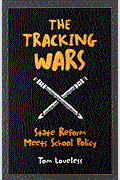 Education
The Tracking Wars
Tom Loveless
July 1, 1999
Tom Loveless is director of the Brown Center on Education Policy and senior fellow in the Governance Studies program at the Brookings Institution. He is the author of the annual Brown Center Reports on American Education. Julian Betts is a professor in the Department of Economics at the University of San Diego and a senior fellow at the Public Policy Institute of California, where he has published several books on education policy.