The achievement gap between white students and African American and Hispanic students has been debated by scholars and lamented by policymakers since it was first documented in 1966. The average black or Hispanic secondary school student currently achieves at about the same level as the average white student in the lowest quartile of white achievement. Black and Hispanic students are much less likely than white students to graduate from high school, acquire a college or advanced degree, or earn a middle-class living. They are also much more likely than whites to suffer social problems that often accompany low income. While educators have gained an understanding of the causes and effects of the education achievement gap, they have been less successful in finding ways to eliminate it—until now. This book provides, for the first time in one place, evidence that the achievement gap can be bridged. A variety of schools and school reforms are boosting the achievement of black and Hispanic students to levels nearing those of whites. Bridging the Achievement Gap brings together the findings of renowned education scholars who show how various states, school districts, and individual schools have lifted the achievement levels of poor and minority students. The most promising strategies include focusing on core academic skills, reducing class size, enrolling students in more challenging courses, administering annual achievement assessment tests, creating schools with a culture of competition and success, and offering vouchers in big-city school districts. While implementing new educational programs on a large scale is fraught with difficulties, these successful reform efforts offer what could be the start of widespread effective solutions for bridging the achievement gap.
Related Books
The Tracking Wars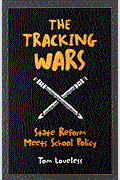 Getting Choice Right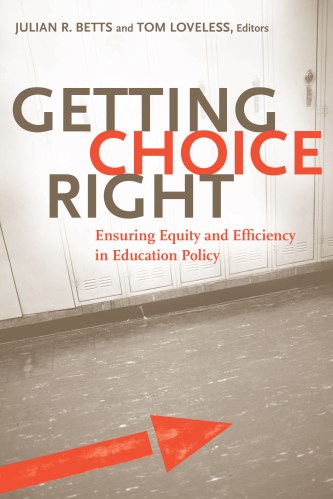 Education
Getting Choice Right
Julian R. Betts, Tom Loveless
December 9, 2005
Conflicting Missions?
Education
Conflicting Missions?
Tom Loveless
April 1, 2000
John E. Chubb is a founding partner of Edison Schools and a nonresident senior fellow in Governance Studies at the Brookings Institution. Tom Loveless is director of the Brown Center on Education Policy and senior fellow in the Governance Studies program at the Brookings Institution. He is the author of the annual Brown Center Reports on American Education.